Vietnam is among the countries discharging the most plastic waste worldwide, while its recycling rate is low and its policies have failed to cope with the increase in plastic waste, according to a released report by Ipsos Business Consulting.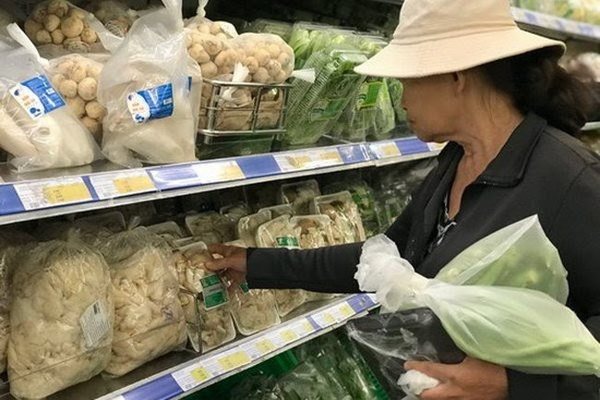 Products displayed at a supermarket are wrapped in plastic bags
Accordingly, the per capita consumption of plastics surged from 3.8 kilograms in 1990 to 41.3 kilograms last year, marking an average increase of 10% year-on-year. Vietnam is one of the five ASEAN countries consuming the highest volume of plastics.
The country annually discharges 1.8 million tons of plastic waste. Of the total, only 27% of plastic bags are recycled and 0.73 million tons of plastic waste are discharged into the ocean.
With this volume, the sea will have more plastic waste than fish by 2050 if immediate action is not taken.
Moreover, the country may become the dumpsite of the world, according to Ipsos' report. The consulting firm attributed the situation to the prevailing regulations in the Ministry of Natural Resources and Environment's Circular 41/2015, allowing the import of waste as production materials.
However, it is difficult to classify plastic waste, and many other countries have taken advantage of the regulation to ship large volumes of plastic waste to Vietnam.
In addition, after China's suspension of 24 types of waste imports, the volume of scrap imports into Vietnam rose further. According to customs agencies, thousands of containers of plastic waste have been abandoned at ports in Haiphong and HCMC.
The Government has also issued multiple policies to reduce plastic waste, such as fining those who fail to separate their waste and imposing an environmental protection tax on the use of plastic bags.
However, the adoption of these policies remains ineffective as the tax rates are low.
Through an online survey of more than 17,000 respondents worldwide, including 3,900 people in the Asia-Pacific region, Ipsos found that consumers are growing increasingly anxious about the overuse of plastic products. More than half of the respondents noted that plastic waste is a serious problem.
They also proposed the Government and enterprises take responsibility for addressing plastic waste and issuing requirements on packaging.
Quach The Phong, country manager in Vietnam at Ipsos Business Consulting, told The Saigon Times that plastic waste is a major problem in Vietnam. However, it is not feasible to ban the use of plastics.
It is more important to raise consumers' awareness of the risks created by plastic waste and encourage them to use plastic products as little as possible. Meanwhile, enterprises can study their peers in other countries to gradually reduce plastic packaging and announce to their customers that they may have to pay additional fees for plastic bags and boxes.
Tam An

A co-ordinated and sustained global effort "is needed to reinforce the circular economy through action-based projects", an international forum heard in Bangkok.

Although there is no common formula suitable to all countries, Vietnam still needs to exploit the support and experience of many countries around the world to successfully implement a program on controlling ocean plastic waste, experts say.