Businesses which reuse materials are the lifeline of Vietnam's environmental future, a workshop in Hanoi was told on Wednesday.
Vietnam proactive in reducing greenhouse gas emissions
Climate change: Five cheap ways to remove CO2 from the atmosphere
Vietnam committed to reducing greenhouse gas emissions: official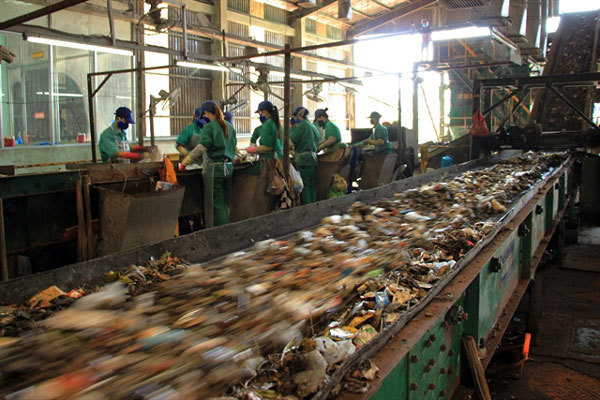 Rubbish is classified before treatment at Ca Mau City Waste Treatment Plant. About 38,000 tonnes of solid waste are produced a day at urban areas in Vietnam. — VNS Photo Huynh The Anh
Organised by the Ministry of Natural Resources and Environment (MoNRE), Vo Tuan Nhan, deputy minister of MoNRE, said the development of a circular economy, which focused on recycling of leftover material and waste was a solution to help countries develop sustainably and protect the environment.
The application of circular economic models in solid waste management, particularly urban solid waste, has brought about remarkable results in a number of countries across the world, he said.
It is estimated around 38,000 tonnes of solid waste are produced each day in urban areas.
The amount of urban solid waste in 2015 increased by 1.6 times compared to that of 2010. It is expected that the urban solid waste would rise by 2.37 times by next year and 3.2 times by 2025, in comparison with 2010.
An average resident in Vietnam would produce 1.6kg of solid waste a day by 2025, almost twice the amount generated ten years ago.
Different types of solid waste are increasing, and people are not sorting it correctly before disposing it, making it hard for the authority to manage, he said.
According to Deputy Minister Nhan, Vietnam has a policy framework on solid waste management in place but to improve the effectiveness of the management it must learn from other countries and introduce better technology.
"Waste should be considered as a resource," he said.
"The management of solid waste must be in line with the requirement of a circular economy."
Nguyen Hoang Nam from the Institute of Strategy and Policy on Natural Resource and Environment, said Vietnam has some circular economic models including eco-industrial parks in Ninh Binh, Can Tho and Da Nang which has helped saving US$6.5 million per year as well as the Zero Waste to Nature Initiative implemented by Viet Nam Chamber of Commerce and Industry (VCCI).
To promote development in the future, Nam said it was necessary to set up a plan to increase public green spending. There should also be close coordination between the MoNRE, VCCI and enterprises.
According to Professor Sunil Herat from Griffith University, Australia, waste management is a major challenge worldwide, especially in big cities. Population growth, the migration from rural to urban areas and an increase in consumption all contribute to this challenge.
The United Nations estimates the world generates about 7 to 10 billion tons of solid waste each year from urban households and from commercial, industrial and construction activities. The amount of waste produces by low-income cities in Asia and Africa will double in the next 15-20 years. Poor waste management can have a big impact on the environment and public health.
A circular economy did not only help achieving sustainable development through generating jobs and economic value but also reducing the emission of carbon dioxide.
Herat said manufactures should conduct more research so their products would be easily repaired with a view to reduce the waste. He also suggested countries issue policies to boost the participation of private sector.
He said the Australian Government has pledged $1.1 million to increase recycling rates for packaging though the education for consumers. It was part of $167 million for new national waste and recycling initiatives.
Kim in-Hwan, a policy expert from the Republic of Korea, said efforts to reduce waste has been taking place in his country including the limitation of the usage of single use products and asking households to buy bags facilitating the sorting of garbage. As a result, the amount of waste buried reduced to 13 per cent in 2013 from 96 per cent in 1990s while the rate of trash that has been recycled increased at the same time.
VNS