Students of Thanh Đa Secondary School in HCM City's Bình Thạnh District have greater awareness of air pollution and measures to prevent it after an air quality index monitor was installed in the school a few months ago.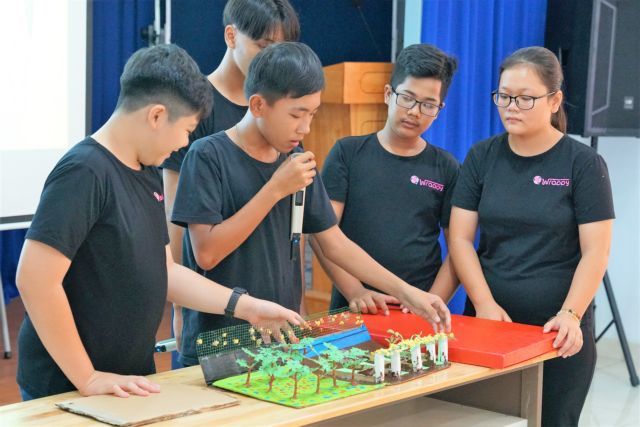 Children speak at Clean Air Day organised by Saigon Innovation Hub, UNICEF Việt Nam and international NGO Clean Air Asia last year. — Photo courtesy of the UNICEF
Speaking at a forum on improving public awareness of air quality early this week at the American Center in HCM City, Đinh Thị Thiên Ân, the school's principal, said: "Many students gather at the air quality monitor during class breaks every day to watch the air quality index. Students who have smart phones watch the index on the application."
After seeing the pollution levels through the index, they have seen the importance of wearing masks on the way to school and also begun to have action to reduce pollution, she said.
Besides, now it is easier for teachers to teach them about this issue, she said.
Trịnh Ngọc Hương, a student at the school, said that she and her friends made a video on air pollution using the monitor's indexes.
The air quality monitor is one of 13 the US consulate general and UNICEF helped instal at schools, kindergartens and universities across the city.
The project seeks to increase awareness of pollution among youths and their teachers and parents.
US consul Marie Damour said air quality has become a public issue after the Ministry of Health started regularly putting out information about air quality last year.
"As Việt Nam and HCM City continue to grow you will face the challenges many growing metropolitan areas face – how to effectively address the byproduct of economic growth and modernization, in essence, ensuring the air remains healthy enough to breathe, allowing the city's citizens to thrive.
"This is not an easy issue to resolve, it remains critically important as Việt Nam continues to grow."
The forum explored ways to help ensure that HCM City has both a sustainable economy and clean air for people to breathe.
Local air pollutants, which are ranked among the top causes of premature death by the World Health Organization, have been at alarming rates in HCM City, according to environmental scientists.
Nguyễn Hữu Nhân of RMIT University said: "Air pollution is a slow death because it causes short-term effects such as pneumonia or bronchitis, irritation to the nose, throat, eyes, headaches, dizziness and nausea, and long-term ones such as heart disease, lung cancer and birth defects."
Marianne Oehlers, chief of the programme partnerships office, UNICEF Việt Nam, said that one of 10 children aged under five dies due to air pollution.
"We know much more about how air pollution impacts children and also people's lives."
In an effort to promote child participation in tackling child-related urban issues under the framework of the UNICEF – HCM City Child-Friendly City Initiative Cooperation Programme, the Saigon Innovation Hub began piloting the Social Innovation Clubs project and Clean Air project in 2018.
These efforts aim to enable children and adolescents to play an active role in improving air quality and make HCM City a cleaner and more child-friendly and resilient city. VNS

Mitigating air pollution in Hanoi is a difficult task as pollutants are spread out in the air with no boundaries. Hanoi alone won't be able to fulfill the task, scientists say.

People have been advised to restrict outdoors exercise, close windows and doors, and wear protective masks to protect themselves from PM2.5 fine dust.