The AirVisual app, whose data indicated that Hanoi has at times topped its list of 90 major global cities suffering from air pollution, has been restored for download on Google Play and Apple's App Store in Vietnam.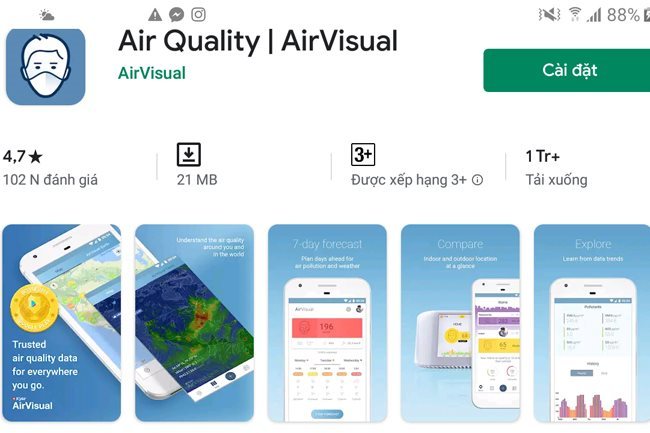 A screenshot of the AirVisual app on October 9. The air quality monitoring app is available for download again in Vietnam after being suspended in the face of a barrage of criticism from social media users
AirVisual said in a statement today, October 9, that amid periods of heightened pollution in recent weeks, the Vietnamese capital city at times appeared and even topped the AirVisual Major City Ranking, which is a live, hourly ranking of 90 major cities.
On October 6, a coordinated online attack disparaged AirVisual's data reporting services and credibility, based on a misunderstanding of how AirVisual collects and reports its data, particularly with regard to what the Major City Ranking represents.
"Due in no small part to the huge reaction AirVisual has received from thousands of Vietnamese who have expressed support for our data, our community and our mission to raise awareness of air pollution around the world, the AirVisual App is available again in Vietnam," said the company.
It added, "Not only has this support been instrumental in allowing AirVisual services to resume in the country, but it has further demonstrated the overwhelming strength and resolve of the community in Vietnam to raise awareness on the environment and to tackle the air pollution problem."
AirVisual noted that efforts to suppress open and free air pollution data, rather than address the emission sources that have created the problem, are misguided and have negative health and environmental implications.
In addition to Major City Ranking list being limited to only 90 major cities, the ranking is live and updates several times per hour.
"When a city tops the list, this is not to say that that city has the worst air quality in the world, ever measured, but rather that it has the worst air quality during that hour among the 90 ranked cities," reported AirVisual.
On Tuesday, Vu Khac Ngoc, an online chemistry teacher with almost 350,000 Facebook followers, apologized to AirVisual for his now-deleted misleading post that resulted in the coordinated attack on the independent online air quality index monitor.
Last weekend, he accused AirVisual of having manipulated its data to sell air purifiers made by its holding company, IQair, a Swiss-based air quality technology company.
He did not offer any evidence to back up his claims, but the post – which indicated that the AirVisual ranking would harm tourism to Vietnam and urged people to leave negative reviews of the app – quickly received thousands of shares and likes.
Since then, AirVisual received abusive and threatening messages posted on its Facebook page and on the Apple Store and Google Play. Consequently, the AirVisual app and Facebook page were temporarily inaccessible in Vietnam. SGT
Thanh Thom

Before "disappearing" from App Store and Play Store stores in Vietnam, AirVisual was the most downloaded air quality monitoring app in the country last week.

A separate annual world ranking elaborated by IQAir (owner of AirVisual) in partnership with Greenpeace in March showed that Hanoi was not in the world's top 200 most polluted cities last year.