A co-ordinated and sustained global effort "is needed to reinforce the circular economy through action-based projects", an international forum heard in Bangkok.
Vietnam seeks models of solid waste treatment technology
Vietnam strives to effectively manage solid waste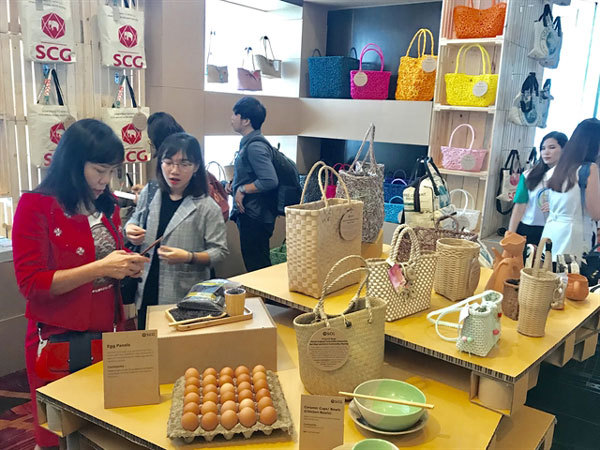 Visitors at a booth displaying recycled products made by Siam Cement Group at the "Circular Economy: Collaboration for Action" conference organised in Bangkok on Monday. — VNS Photo Bo Xuan Hiep
Global companies from across the value chain, including chemical and plastic manufacturers, on Tuesday took part in the forum organised by NGO Alliance to End Plastic Waste (AEPW) for the first time in Southeast Asia.
Cholanat Yanaranop, executive vice president of Thailand's Siam Cement Group (SCG), said: "No single country, company or organisation can solve this problem alone.
"The natural resources of our planet are dwindling at an alarming rate. It is said that if the population of the world continues to consume natural resources at the current rate, by 2050 we will need another one and a half worlds to satisfy our appetite.
"The consequences of such would be equally alarming. As we consume, we would produce wastes in various quantities and forms. When wastes are not properly managed, they can become problems to the environment. And plastics wastes are among them."
He told Việt Nam News: "We believe the circular economy concept of make-use-return is now the only solution to replace the linear economy of take-make and dispose."
The philosophy behind the circular economy is focused on making the most out of resources throughout their life cycle, from planning and designing, manufacturing and consumption to waste management and reuse or recycling, all with the aim of promoting the sustainability of the economy, society and environment.
Sixty per cent of plastic waste in the ocean can be traced to five countries in Southeast Asia, Yanaranop said.
Jim Seward, vice president, sustainability, technology and joint ventures, of global chemical company LyondellBasell, said: "We believe the time for action is now. Success will require collaboration and a co-ordinated effort across many sectors to create sustainable outcomes and impacts."
Brendan Edgerton, director of circular economy at the World Business Council for Sustainable Development, said: "Despite the many benefits plastics bring to people around the world, unmanaged plastic waste has become a global challenge."
The alliance at the event highlighted an initial set of collaborative projects that reflect a range of solutions to end plastic waste.
In such projects, the alliance partners with cities in the region to design integrated management systems in large urban areas where infrastructure is lacking.
It would also promote technologies, business models and entrepreneurs to prevent ocean plastic waste and develop an open-source data platform to provide valuable information about the sources, location and formats of plastic waste to help support waste management projects.
The AEPW is a global non-profit organisation that seeks to end plastic waste in the environment, especially in the oceans, in Southeast Asia.
It represents 40 companies that are headquartered in North and South America, Europe, Africa, the Middle East and Asia.
It has committed almost US$1 billion worth of funds, and has a goal of investing $1.5 billion, in action-based projects over the next five years, mostly in Southeast Asia, where the need is greatest.
As a founding partner with the World Business Council for Sustainable Development, the alliance focuses its strategy on key areas such as infrastructure, innovation, education and engagement, and cleaning up.
Research shows nearly 80 per cent of the plastic waste in the ocean begins as litter on land, and a vast majority travels to the sea through rivers, canals and other waterways.
Around eight million tonnes of plastic winds up in the ocean each year.
The event was held as part of a conference titled "Circular Economy: Collaboration for Action", hosted by SCG, which closed on Monday.
VNS