Central Highlands Lam Dong Province's Da Lat City Police on Monday seized three loggers involved in cutting down pine trees in 151A sub-area, District 12, the Vietnam News Agency reported.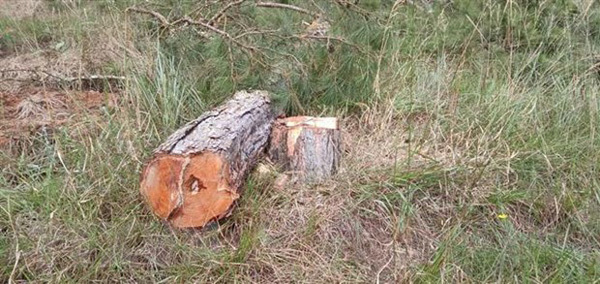 A pine tree chopped down to plant avocado. — VNA/VNS Photo Dang Tuan
At 8pm on Sunday, the loggers were found cutting pine trees. After being chased by officers, they left a chainsaw at the scene.
At 2am on Monday, when sneaking back to take the equipment, one of the suspects was arrested. The other two were later arrested by Da Lat City Police.
According to the loggers' initial testimony, they were hired by 52-year-old Vu Thi Phuoc in District 12, Da Lat City who owns a farm next to the pine forest.
Phuoc admitted that she planned to have some 1,000sq.m of forest cut down to expand her farm.
At the scene, holes and avocado trees were found along with eight felled pine trees.
Since May, Lam Dong Province has reported several cases of forest destruction in different localities.
In August, six people were suspected of poisoning nearly 6,500sq.m of 30-year-old pine trees in Loc Ngai Commune, Bao Lam District, in order to encroach upon the forestry land. The suspects were arrested.
Bach Dinh Ke, 37, the alleged mastermind behind another poisoning case of some 3,500 pine trees in Tan Thanh Commune was also seized by the provincial police in June.
In early October, a joint investigation between police and officials has been carried out into the destruction of a pine forest in Lam Ha District in response to hundreds of pine trees cut down to take over forestry land for a coffee plantation in Nam Ha Commune.

Authorities in Lam Dong Province are investigating the destruction of a pine forest in the area after various violations were found in community-based forest management.

Lam Dong police have just arrested another accomplice in a group of men who are accused of destroying over 10 hectares of forest.  
VNS