Dau Ngoc Huy and Nguyen Ba Luan, the two co-founders of Stringee, a communications platform, have raised almost US$2 million from a local investment fund and other angel investors.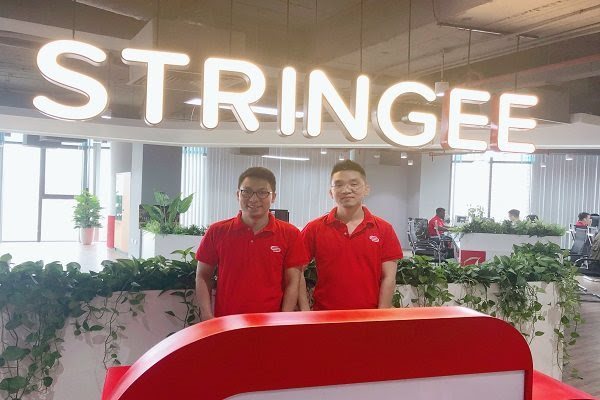 Stringee co-founders Dau Ngoc Huy and Nguyen Ba Luan at the company's head office
Stringee announced the successful round of fundraising on July 23.
Dau Ngoc Huy, who is also managing director of Stringee, said the firm raised capital to achieve strong growth in the local market and then expand to overseas markets such as the U.S. and Japan. Stringee currently has 50 employees, and the figure is expected to double to 100 by the end of the year, he said.
The global market for enterprises offering communication solutions has recorded an annual growth rate of 25-40% to reach about US$10 billion, and is forecast to hit US$30 billion by 2022, which means there is a lot of room for Stringee to reap robust growth, said Huy.
As a local startup specializing in communications Application-Programming Interfaces, or communications APIs, Stringee offers communication solutions that allow enterprises to reach customers via voice calls, video calls, and text message services, which are similar to services offered by social network platforms, such as Facebook and Zalo, the company said.
However, unlike other communications platforms, enterprises using Stringee can integrate communications APIs into their existing software or websites, without having to open another app or website, according to the company.
Aside from APIs, Stringee also offers solutions in terms of contact centers for customer care and management, allowing companies to serve their clients more simply and effectively than traditional solutions, it stated.
The communications platform logs a combined 1.5 million minutes of calls daily and has a wide user base of 200 companies, including telecoms carriers Mobifone and Viettel, restaurant chain Golden Gate, technology solution provider for the transport industry Logivan, and the Voice of Vietnam radio station.
Dau Ngoc Huy and Nguyen Ba Luan formerly worked at Viettel, where they were earning up to thousands of U.S. dollars per month.
After leaving Viettel, the two studied and developed BomChat, a texting and calling app, in 2014, but their business went bust as they failed to call for investment, and thus, could not compete with strong players in the segment such as Zalo, Viber, Line, and Kakao Talk. SGT
Van Ly