Many Apple fans in Vietnam wonder when will Apple open stores in the country.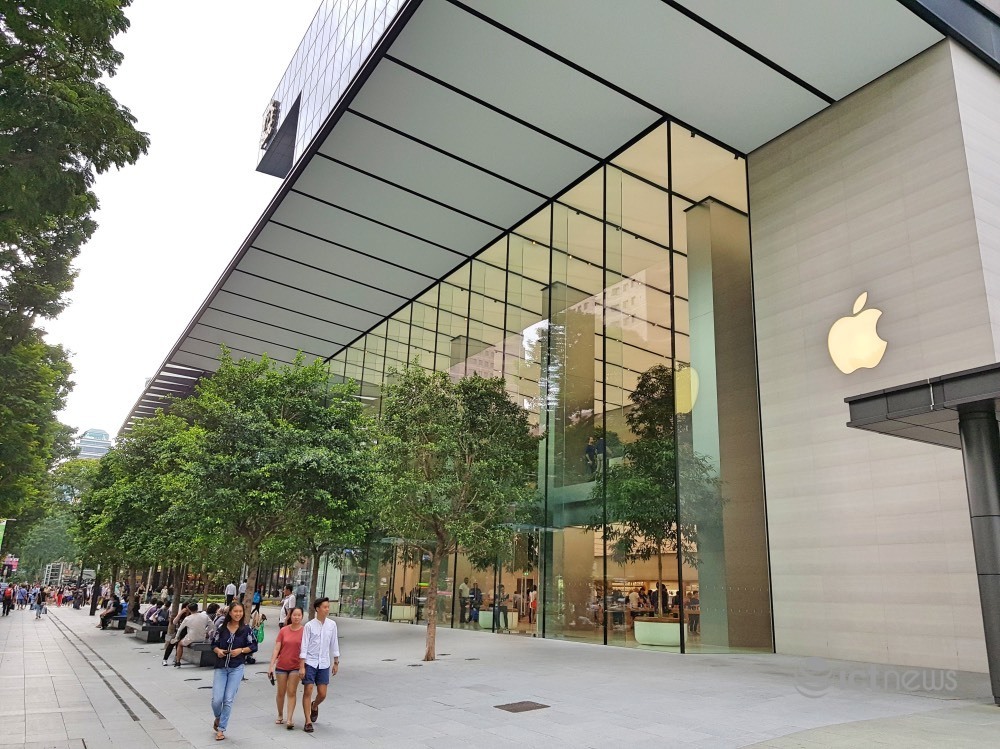 Outside an Apple Store in Singapore. (Photo: Hai Dang)
Apple Stores are iconic stores of the company. Each store is a special architectural work where Apple fans can come to not only buy and experience Apple products but also visit and take "check-in" pictures. Many Apple fans in Vietnam wonder when will Apple open stores in the country.
When this question is raised to local tech-product retailers, all of them say that Apple is increasing its presence in Vietnam and is paying more attention to the market of nearly 100 million people. The opening of Apple Store in Vietnam is likely to come soon.
On the opening day of four TopZone stores that sell only Apple products in Hanoi and HCM City in mid-October, Doan Van Hieu Em - CEO of Mobile World – said that the opening of the chain came from the plans of both Mobile World and Apple. The retailer expects to have 60 TopZone stores across the country by the first quarter of 2022.
Apple distributes its products through the following models: Apple Store, Apple Mono Store, AAR (Apple Authorized Retailer), and APR (Apple Premium Retailer). In Vietnam, the AAR model is the most common with many stores run by Mobile World, FPT Shop, Viettel Store, CellphoneS, Mobile Viet, Minh Tuan and others.
As for the Mono Store model, which sells only Apple products, Apple has cooperated with Mobile World (4 stores), ShopDunk (6 stores), Future World (5 stores), F.Studio (15 stores) and eDigi (1 store).
Before its cooperation with Mobile World to open the TopZone chain, Apple has made many moves to increase its presence in Vietnam in the last two years.
Apple has cooperated with more local partners to open AAR stores, including Mobile Viet and Minh Tuan Mobile. For distribution of Apple products, besides Viettel Distribution and Synnex FPT, Apple has worked with PHTD and Digiworld to expand the Vietnamese market.
In terms of operations, Apple has expanded its direct presence in Vietnam by recruiting many employees in charge of different fields.
In terms of goods, this year official sales of iPhone 13 began nearly a month earlier than previous years.
According to Doan Van Hieu Em, besides Singapore, Vietnam may be the second most noticed market in Southeast Asia for Apple.
Pham Tuan Anh of Shopdunk system said that Apple's growth in Vietnam has surpassed many countries in the region and even ranks among the top countries globally.
Based on recent developments, retailers believe that sales of iPhone, iPad and many other Apple product lines will grow in Vietnam in the near future. This may urge Apple to upgrade the ranking of Vietnam in its global market map.
"Apple currently divides countries and territories into three levels. The most important level includes countries like the US, Singapore, China, etc. The second level consists of countries like Thailand, while Vietnam is at level 3," Hieu Em said.
The Mobile World CEO predicted that Vietnam might be on the same level with Thailand in the next two years.
In Southeast Asia, Apple has opened two Apple Stores in Singapore and one Apple Store in Thailand. The opening of an Apple Store in Vietnam may be possible in the next few years.
Apple has more than 500 Apple Stores worldwide, with more than half of them in the US. China (including Hong Kong, Macao) ranks second with 50 stores, followed by the European market.
The design and materials of all Mono Store stores in Vietnam must be approved by Apple in terms of design and materials. Employees have to attend Apple training courses. These stores meet Apple's global standards in many aspects.
Hai Dang

On October 22, sales of officially distributed iPhone 13 models began in Vietnam. Many shops opened overnight to serve customers.

The market for "hand-carried" iPhones in Vietnam has been shrinking in the past two years, especially after the launch of Apple-authorized stores.