The Department of Natural Resources and Environment in northern Bac Ninh Province has asked all relevant authorities to investigate the illegal dumping of toxic waste by a local environment company into the province's Cau River.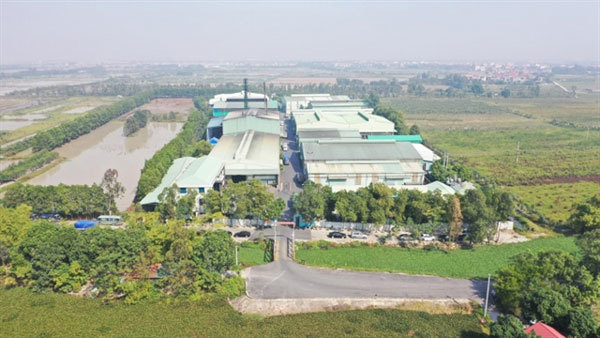 An overview of Thuan Thanh Environment JSC in Thuan Thanh District in northern Bac Ninh Province. — Photo tuoitrethudo.com.vn
In a document, the department has asked local authorities in Phong Khe, Dai Phuc and Van Duong wards to urgently examine illegal dumping along the river.
Any violations must be strictly fined, it said.
The move was made after local press reported that Thuan Thanh Environment JSC, which is in charge of collecting, transporting and treating hazardous waste in Thuan Thanh District's Gia Dong Commune, was illegally dumping waste into the river.
Le Duc Tho, deputy head of the provincial Department of Natural Resources and Environment's Division of Environmental Protection said the division has asked all businesses working in the field of hazardous waste management to report regular inspections on the collection, transportation and treatment of waste.
The division has also urged relevant authorities at the grass-roots level to strengthen inspections and set up barriers in areas where illegal dumping has been reported.
Vu Manh Tien, director of Thuan Thanh Environment JSC, told Vietnam News Agency that the company has full capacity in waste treatment, licensed by the Ministry of Natural Resources and Environment.
All of the company's trucks were equipped with GPS devices and were closely monitored by the provincial Department of Natural Resources and Environment.
Tien said the company planned to invest in technological innovation in production to minimise the impact on the surrounding environment.
It would build a closed garbage warehouse which prevented odours, upgrade incinerator technology and modern gas treatment system, implement regular inspection of environmental quality in the production area and around the factory area.
It would coordinate with local authorities to collect opinions about the environment and the surrounding area, he said.
In reply to questions over sewers installed under the irrigation system near the company, representatives of the Thuan Thanh District's Department of Natural Resources and Environment affirmed that the sewers were to discharge rainwater.
Nguyen Ba Tuan, head of Ngoc Kham Village in Gia Đông Commune said local authorities had regularly monitored the operation of the company.
He said local people expected to get answers from authorised agencies soon.
Thuan Thanh Environment JSC was established in 2009, specialising in collecting and transporting domestic and hazardous waste in 17 communes and one town in Thuan Thanh District. —VNS

Districts in the northern province of Bac Ninh are being polluted by untreated industrial waste and local authorities have failed to come up with any solution so far to improve the situation, the Vietnam News Agency reported.