Experts involved in astrophysical, space and laboratory plasmas and young researchers from 25 countries worldwide have gathered at the 7th edition of the series "Magnetic Fields in the Universe" that is taking place in Quy Nhon from February 16-22.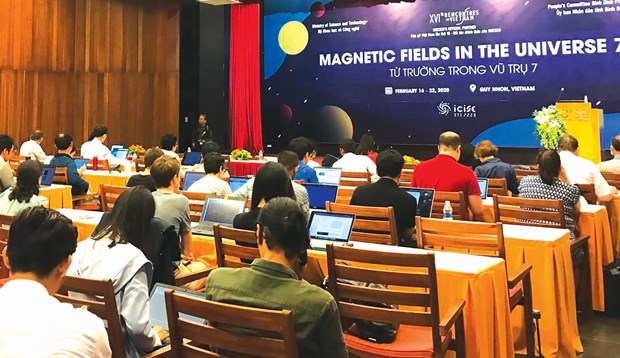 At the conference (Photo: tiasang.com.vn)
The conference forms part of 16th "Meeting Vietnam" (Rencontres du Vietnam) - a development initiative that has brought the world's renowned scientists to Vietnam for discussions since 1993, said Professor Tran Thanh Van, President of the "Rencontres du Vietnam" Association on February 17.
Entitled "Magnetic Fields in the Universe: from Laboratory and Stars to the Primordial Structures", the conference aims to provide ample exchange of the new results and recent progress in these distinct but closely related research areas and provide the new generation with a broad perspective of the field.
The topics addressed cover magnetic fields in a broad variety of processes and environments: from plasma laboratory to the solar corona, the heliosphere, the interstellar medium, external galaxies, clusters of galaxies, the intergalactic medium and the primordial Universe.
The perspectives given to the audience on each of these topics are theoretical and/or numerical, as well as observational./. VNA

With summer in full swing, visitors have been flocking to visit Hon Kho island in Quy Nhon city to discover the area's enchanting underwater sea path as well as participating in scuba diving around coral reefs to avoid the hot weather.

At the age of 30, Dr Tran Van Hung turned down a job opportunity in Japan and returned to Vietnam to work. He is the author of 16 SCI/SCIE articles published in Ranking Q1 international journals.