Pham Trong Thuc, deputy director general of the Industrial Safety Technique and Environmental Agency under the Ministry of Industry and Trade, talks to Công Thương newspaper on the national plan to develop coal-fired power plants.
Environmental protection tax on many commodities next year
Legal loopholes make it impossible to control air quality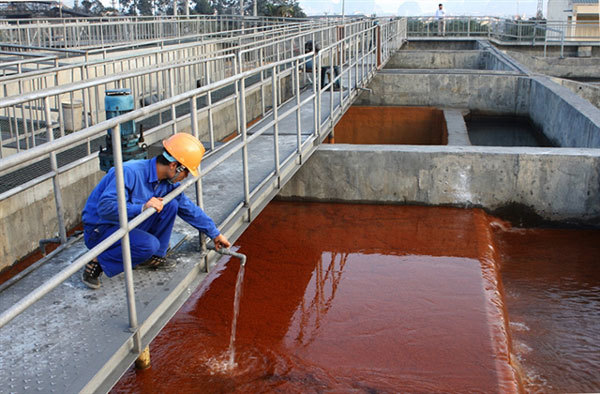 A worker checks waste water treatment system of the Coc Sau Coal Mine in Cam Pha City, the northern province of Quang Ninh. Experts confirm that coal-fired power plant must ensure environmental protection. — VNA/VNS Photo Minh Dong
What is the current state of Vietnamese coal power plants?
Vietnam has 25 coal power plants operating commercially. Their gas emissions, solid industrial waste and environmental issues have been closely monitored in accordance with Vietnamese standards issued by the Ministry of Natural Resources and Environment (MONRE).
Focus is placed on three main factors, namely suspended particulate matter, nitrogen oxides (NOX) and sulphur dioxide (SO2). At present, all 25 coal power plants have installed suspended particulate matter systems using CORONA technology. Thanks to the technology, electrostatic precipitators (ESP) are used to capture up to 98 per cent of particulate matter. For NOX and SO2, we have also applied advanced technologies to cut down their negative impacts on the environment.
Industrial solid waste, including flying dust and coal ash, has been used to make fly ash bricks for use as construction materials.
What measures has the Industrial Safety Technology and Environmental Agency issued to minimise negative impacts on the environment from these power plants?
Our agency has applied many measures, including the legal framework towards revising of the 2014 Environmental Law on the development of environmental technology and standards.
We have also given advice to the Ministry of Industry and Commerce to develop legal documents to use flying dust or coal ash to make bricks or to produce fertiliser. In the future, we plan to hold international workshops to share experiences inside and outside Vietnam on the use of waste to make bricks or produce fertiliser.
However, the quality of the flying dust and coal ash from Vietnamese coal plants is not high. This has presented a big challenge for the consumption of the bricks. The 2014 Law on Environment contains articles on the environmental industry, yet there is no detailed guidance on the responsibilities of concerned ministries and busineses.
Though the Ministry of Industry and Commerce (MoIT) is in charge of monitoring the imports and exports of industrial products – an area which has great potential for environmental impacts – Decree No.38/2015/NĐ-CP dated April 24, 2015 did not have any article or provision specifying the MoIT's responsibility on its environmental management of import-export activities.
What should the Government do to overcome the loopholes in environmental laws?
The first thing the Government should do is revise the 2014 Environmental Law to develop the technical standards and norms for equipment used in environmental treatment, and to step up monitoring and law enforcement activities. At the same time, the National Assembly should consider a resolution on the development of thermo power to ensure energy security while still being able to protect the environment – particularly to control fly dust and coal ash as well as gypsum and plaster.
The Government should revise as soon as possible Decree No.38/2015 to add specific rules governing of fly dust and coal ash. I also want the Government to adopt policies to limit the use of baked bricks.
Last but not least, we should launch communication campaigns on the operation of these power plants and the use of construction materials from waste to help the general public understand their benefits in environmental protection.
VNS