The VN Ministry of Agriculture and Rural Development held a conference in Ca Mau province on April 9, seeking measures to combat river and coastal erosion in the Mekong Delta region.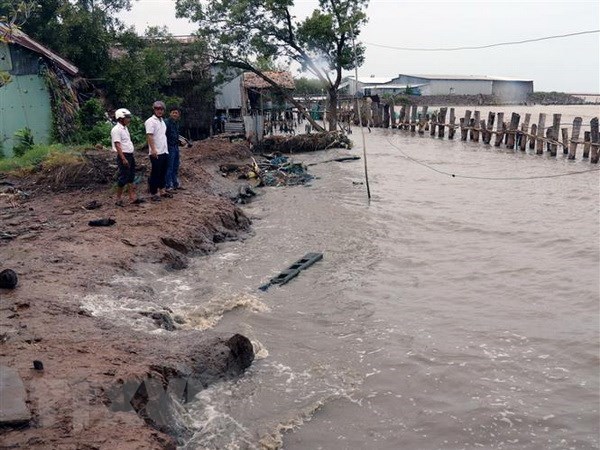 The Mekong Delta has 526 eroded sites along rivers and sea coasts with a total length of nearly 800 kilometres.
Deputy Minister of Agriculture and Rural Development Ha Cong Tuan said erosion of the coastline and river banks has critically impacted on local livelihoods.
The delta now has 526 eroded sites along rivers and sea coasts with a total length of nearly 800 kilometres. Of the number, 57 sites are in extremely dangerous situation and need to be resolved urgently, he said.
The volume of alluvium brought by floods to the region in 2020 is expected to decrease to 60-65 percent of the volume in 2017, he said, adding that the amount could even dwindle to 3-5 percent at the current speed of construction of dams, thus making erosion worse.
Tuan stressed the balanced sharing of water resource benefits with upstream countries in the Mekong River basin, and the significance of effectively managing the exploitation of sand and underground water to prevent the delta from sinking even before the sea level rises.
According to Vice Chairman of the Ca Mau province People's Committee Le Van Su, some 7,800 hectares of coastal forest were lost to the sea during 2007-2014, and erosion has become frequent along more than 100 kilometres of coastline.
In recent times, the province has mobilised resources to build 18 kilometres of sea dykes and restore protective forests, as well as studied further construction of dykes and embankments, he added.
Meanwhile, Vice Director of Dong Thap province's Department of Agriculture and Rural Development Vo Thanh Ngoan said more than 8,000 households in erosion-prone areas need to be relocated to safer places. However, the locality is struggling to arrange resettlement for them due to land shortages.
He said that about 322 hectares of land along Tien River was swept away during 2005-2018, and up to 101 kilometres of river banks are eroded each year.
Last year, the Government provided 1.5 trillion VND (64.56 million USD) in financial aid for 12 provinces and one city in the Mekong Delta to handle serious erosion. Also, the agriculture ministry asked for financial support of 1 trillion VND (43 million USD) from the medium-term public investment plan for 2016-2020, and approval of financial packages worth 36 million USD from the World Bank and Asian Development Bank.-VNA