About 550 participants, including top archaeologists, geologists, volcano researchers and historians from Vietnam and around the world, will take part in the International Conference on the Ly Son-Sa Huynh Geo-Park
in the central province of Quang Ngai on June 18-19.
The conference will include scientific reports and research on the Ly Son Islands, 30km off the coast of Quang Ngai Province, and ancient volcanoes that existed more than 25 million years ago.
Ly Son Island – a place vampires fear
Ly Son island, a living museum of folk culture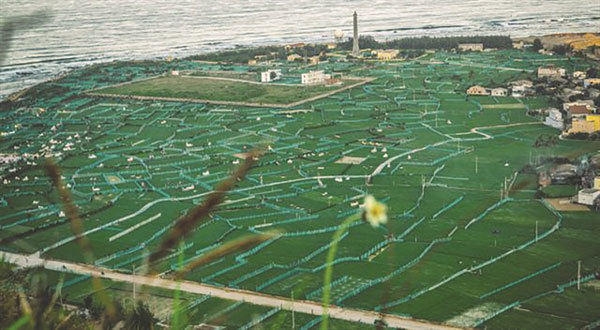 Part of the Ly Son-Sa Huynh Geo-Park. — Photo courtesy of the park
Director of the provincial Department of Culture, Sports and Tourism Nguyen Minh Tri said the conference was a chance for Vietnamese and international scientists and experts to share their reports on the Ly Son-Sa Huynh terrain and cultural value before submitting them to UNESCO for recognition as Global Geo-Park status by the end of this year.
Trí said research had been conducted by Vietnamese and foreign scientists and geologists.
"The recognition of Ly Son-Sa Huynh as a Global Geo-Park will help promote the unique culture, rich biodiversity and extinct volcanoes around Ly Son Islands," Tri said.
"The area, which covers 4,600sq.km, including 2,000sq.km of land, has preserved the rich values of culture, archaeology, tourism and Sa Huỳnh Culture," he said.
He added the conference will aim to promote the value of the area and boost conservation of both culture and geology over the area of nine districts and Quang Ngai City.
According to the provincial department, a series of activities and events will be organised throughout June and July to promote the Ly Son-Sa Huynh Geo-Park.
Head coach of the national football team of Vietnam, Park Hang-seo, will take part in an exchange at Tran Phu Sports Centre – host of the Ly Son-Sa Huynh futsal tournament – on June 16.
A photo exhibition on the Ly Son-Sa Huynh geo-park and other Vietnamese and international geo-parks will be held during the conference in Quang Ngai City on June 17-18.
The Ly Son Islands were born from volcanic eruptions millions of years ago, leaving a landscape filed with rocks, caves, cliffs, arches and lakes.
However, the rapid development of resorts, hotels and entertainment projects threatens to seriously damage the ancient geography of the area.
The islands and a vast coastal area in districts of Binh Son, Tra Bong, Ba To, Sa Huynh and Nghia Hanh, and Quang Ngai City, covering 4,600sq.km, are under consideration as a Global Geo-Park for approval by UNESCO.
Ly Son Islands, known as the Kingdom of Garlic in Vietnam, has around 21,000 inhabitants, of whom 73 per cent make their living from farming garlic and spring onions, alongside fishing.
Archaeologists from Quang Ngai Museum and the Archaeology Institute found six ancient tombs and jewellery dating back 2,000 years.
Experts from the Viet Nam Institute of Geo-sciences and Mineral Resources also found a unique complex of fossilised coral believed to date from 4,000 to 6,000 years ago on Ly Son Islands.
The islands have abundant relics related to the Sa Huynh, Champa and Dai Viet (or Great Viet) cultures that existed on the islands for thousands of years.
VNS