Following the ongoing showdown between Australian lawmakers and Google and Facebook, Vietnam aims to devise similar plans and force global tech titans to share some of the profits they make for using and sharing local press articles.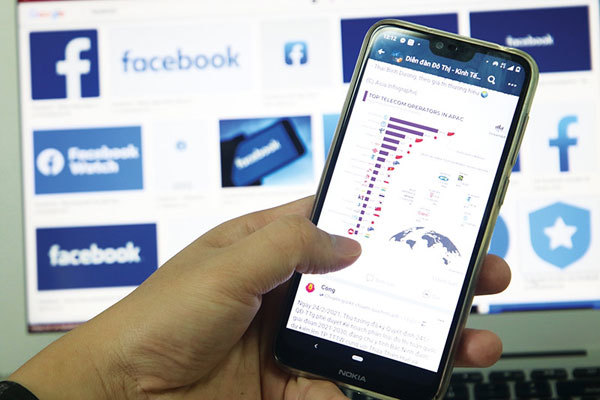 Ongoing haggles about shared news content could spark a global paradigm shift in content ownership.
As soon as the Australian administration and Facebook cleared a major hurdle in the ongoing dispute a fortnight ago, the Vietnamese Ministry of Information and Communications (MIC) and other relevant entities revealed that they are planning to build a similar code of regulations that requires cross-border social media platforms like Facebook and Google to spare a sizable portion of their profits from using the content of local news publishers.
Previously, Australian lawmakers argued that social media companies like Facebook and Google should pay publishers for the news content that populates their sites. Now, Vietnamese lawmakers are looking to follow this approach.
Le Quoc Minh, deputy general director of the Vietnam News Agency, argued in an interview last month, "We don't just watch what our neighbours do, but do the same. With that said though, haggling with transnational giants is never easy, but we should still have a route of action."
However, Facebook and Google both reacted fiercely after being presented with the Australian approach, with the former removing that nation's news articles for five days and the latter threatening to shut down its services entirely in the country, leading to a dispute that only calmed down last month as both sides decided to take a step towards each other.
Nevertheless, up until now the question whether social media platforms should pay publishers for sharing their content remains partially unanswered, despite the fact that some ideas for long-term solutions may seem more feasible.
In Vietnam, a similar regulation could even come out this year, with the first draft expected to be launched within a short time. "Charging fees from tech giants is inevitable as they have been benefitting from Vietnamese newspapers for a long time," said Le Quang Tu Do, deputy general director of the Authority of Broadcasting and Electronic Information at the MIC.
However, should Vietnam move towards a similarly harsh regulation as Australia did in the first place, social media platforms could think again about restricting functions or removing their services altogether, only this time in Vietnam.
Both, Google and Facebook argued that they support news publishers by offering an extra channel for their website traffic, and that the idea of requiring fees for displaying news content on their platforms violates the principle of open linking that the world wide web is built on.
Publishers on the other hand said that they have little choice but to play the tech titans' game as their role in distributing their content is crucial in the modern media landscape.
The discussion is taking place not just in Australia and Vietnam but also several other countries. As someone currently delighted by the ongoing talks, competitors like Microsoft and four of Europe's biggest news associations launched a joint call last month for the EU to adopt similar reforms to those in Australia.
The focus of all debates lies on two key issues, content sharing, and possible copyright infringements. News agencies and governments argued that social media platforms should share some of the profit they make as they display their content while social media platforms refer back to the open approach to linking and sharing. Another issue relates to possible copyright infringements when sharing parts of articles like their headlines and excerpts on social media.
Copyright laws, however, are vastly different in each country. While in the United States, the sharing of headlines and snippets is considered a fair use of content that does not need any negotiation or licensing, other legal frameworks already see an infringement in this.
Deciding what fair use is remains complicated though as it entails weighing whether a snippet on a social media platform could be seen as harmful for the publisher.
Two related legal precedents are a ruling by Australian judge Annabelle Bennet from 2010 who said, "Headlines generally are, like titles, simply too insubstantial and too short to qualify for copyright protection as literary works."
This ruling, however, still leaves out the snippets that are commonly shared on social media.
In another case from 2007, the pornography publisher Perfect 10 sued Google for indexing thumbnails of its material in the search engine, claiming it would hurt its business. In the recent clash with Australian lawmakers, Google cited this case, among others, to showcase its respect for the copyrights of publishers.
The issues with Facebook and Google in Vietnam have been brought to the table repeatedly yet without any legal steps by the local press as Vietnam's intellectual property regulations remain vague or miss related clauses.
Commenting on this, lawyer Nguyen Bao Thang, member of the Hanoi Bar Association, said the current intellectual property institutions have yet to clarify possible violations with regards to copyright infringements. Thus, Vietnam's press has had a hard time bargaining with social media platforms and defending their interests.
"In addition, it is necessary to research related overseas laws, and policymakers should analyse what damage the press really takes if their content is shared on social media and then develop suitable adjustments to the legal framework," said Thang.
VIR

Foreign tech giants like Facebook, Google, and YouTube will have to pay taxes in Vietnam under a draft circular, after years of invoicing their revenues out of the country.

With the establishment of a series of social networks, Vietnam is one of only a few countries with domestic products that are competitive with cross-border platforms.