Da Nang city has outstripped other localities to lead the Vietnam Information and Communication Technology (ICT) Index for 10 consecutive years.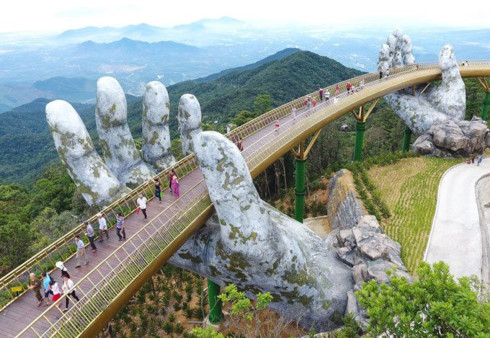 The Golden Bridge in Ba Na Hills, Da Nang city 
Da Nang's Information and Communications Department said the ICT sector earned more than 1.2 billion USD last year and contributed 5.5% of Da Nang's GRDP.
The city has identified ICT development one of its 3 strategic breakthroughs. Da Nang now has 850 online public services, accounting for 65% of the city's total administrative procedures. 70% of intersector documents are transferred online.
ICT applications have halved the time needed for administrative procedures. In 2017 Da Nang's Software Park was recognized as an ICT Center, the third of its kind after two others in Hanoi and HCMC.
Da Nang is building information infrastructure to connect with other smart cities in Vietnam and ASEAN by 2030. It will build a multifunction monitoring center for urban management, traffic, health, education, environment, energy, and international connectivity.
Nguyen Thanh Long, Vice Chairman of the Party Central Committee's Communications and Education Commission, said "Da Nang leads in building a smart city. It has created models for other localities to study. The city will soon apply ICT to building an e-government toward building a digital government and smart administration. Websites of ministries now operate separately. In the future people will log in to one website for all sectors."
Japan and the US are two key markets of Da Nang's ICT sector, accounting for 72% of Da Nang's export revenue last year.
Da Nang has enhanced investment promotion programs inside and outside the country to attract more ICT investors. VOV5