Cat Tien National Park is facing danger again as local authorities have re-allowed sand exploitation after two years.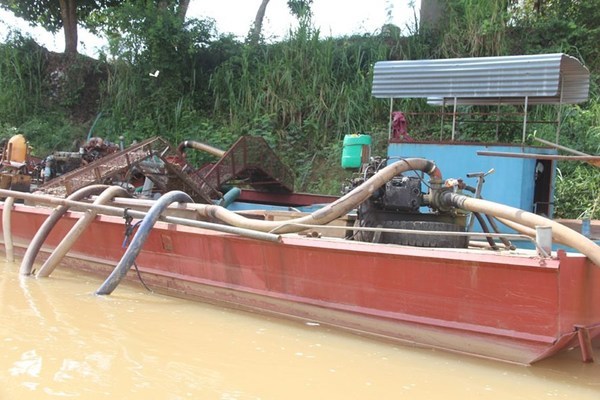 Sand exploitation threatens Cat Tien National Park
Cat Tien Park has been recognised as the world biosphere Reserve Zone. It is home to thousands of varieties of flora and fauna, many of which are rare and endangered species. However, the park has been threatened by severe erosion along the Dong Nai River due to sand overexploitation and violations for years.
There are some 18 points of erosion along the 14km-long river bank and about 13,800 square metres of land has been lost. There were 34 erosion spots on the other bank. Many firms were licensed to exploit sand but in reality, they illegally encroached upon other areas and caused severe consequences by overexploiting sand.
As a result, in 2017, the authorities in Dong Nai, Lam Dong and Binh Phuoc halted all sand exploitation activities on Dong Nai River. After two years, the authorities announced that sand exploitation activities will be resumed due to construction sand shortage.
Nguyen Huu Ky, vice chairman of Tan Phu District, Dong Nai Province, said, "The construction sand shortage in the area led to rising sand prices more illegal sand exploitation."
The decision has raised public concerns over the conservation work at Cat Tien National Park. According to the experts, animals often go out to the river to drink, especially during the dry season, so sand exploitation activities will badly affect nature.
Tran Van Binh, deputy head of Cat Tien National Park Forest Ranger Unit, said he didn't oppose sand exploitation but it must abide the laws. Firms must only exploit sand at allowed locations and follow the regulations.
Vo Hong Vinh, deputy head of the Office of Water Resources, Minerals and Climate Change, said each firm would only be allowed to use two vessels for each location. Those vessels will have GPS and cameras installed to prevent violations. The firms can only work from 6 am to 6 pm to avoid overexploitation. The firms must submit a monthly report about their output for mineral resource tax.
The authorities will revoke firms' licenses if violations are detected. The firms are responsible for compensating and fixing the area if they cause erosion.
Lao Dong/Dtinews