The goal of having 30 percent of online public services at level 4 may be unattainable if the building of e-government does not succeed.
The Government Office has put e-Cabinet system into operation in an effort to reduce the time of government meetings. With the system, the government hopes that 30 percent of time for meetings will be cut. It is expected that 100 percent of the consults with members of the government will be implemented online, except for issues related to state secrets.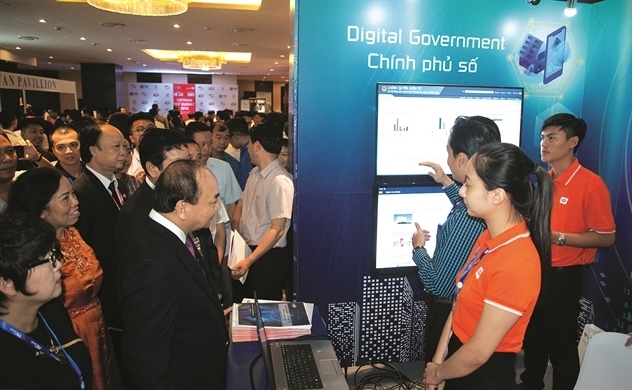 Together with e-Cabinet, Vietnam has made progress in the last two years with its efforts to build e-government. The PM has for the first time issued its digital signature on legal documents and issued the documents directly. Unlike previously, when people and businesses saw new legal documents a couple of weeks after they were released, many documents now can be released within half a day. 

The goal of having 30 percent of online public services at level 4 may be unattainable if the building of e-government does not succeed.
In the future, there will be integrated platform that shares national data between ministries, branches and localities with the central government providing a number of public services. In the near future, the national public service portal and the national reporting system will also be integrated.

The Minister of Finance last April approved the financial national database architecture as a basis for building the national database, to be put into use in 2020. The Ministry of Natural Resources and the Environment is working on an overall mechanism on building a national land database, expected to be submitted to the Prime Minister in November 2019.

To be sure that information technology systems can 'talk' to each other, a decree sharing digital data among state agencies will soon be released.

Regarding the e-government development index, according to a UN report, Vietnam in 2018 ranked 88th out of 193 countries and territories and ranked sixth in ASEAN.

The three most commonly used online services in 2018 were payment, income tax payment and new business registration. The availability of overall services through email, feed updates, mobile apps and SMS has doubled globally, especially in health and education.

In the context of the 4.0 era, the Government of Vietnam decided that building an e-government, striving for digital government, digital society and digital economy, is one of the top priorities in the 2016-2020 period to create firm foundations for a comprehensive digital transformation in the 2021-2030 period.

A study of Google and Temasek found that Vietnam's digital economy had value of $3 billion in 2015 and the figure rose to $9 billion in 2018, while it is expected to reach $30 billion by 2025.

Another study of Data 61 (Australia) showed that Vietnam's GDP may increase by $162 billion within 20 years if it succeeds in digital transformation.
Chi Mai 

The rapid development of internet of things in Viet Nam has forced authorities and businesses to pay attention to cybersecurity, a conference heard in HCM Cityon Wednesday.  

Vietnam's rapid digital transformation demand is building new pathways for businesses. However, in order to translate these into real success stories, numerous obstructions will need to be removed.