A rare Mekong River Irrawaddy dolphin has been caught by fishermen in Ben Tre Province.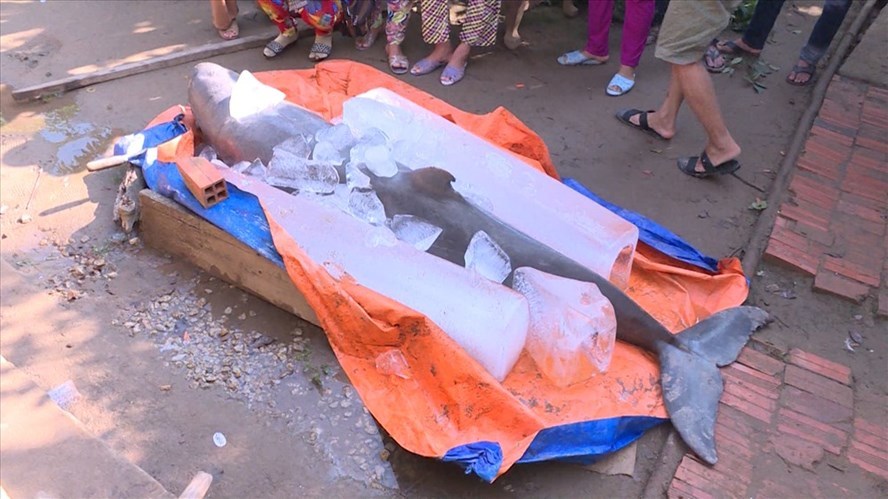 Mekong River Irrawaddy dolphin
Many people have gathered at Phan Van Thai's house on May 15 and 16 to see the dolphin.
According to Thai, he and his wife were fishing on Co Chien River when they heard a loud noise and noticed that a big fish had been caught in their net. The dolphin was 1.3 metres long and weighed 150kg but they claimed it was already dead when it was caught in the net.
Researchers and experts have confirmed that this is a Mekong River Irrawaddy dolphin. Nguyen Van Giang, chairman of Phu Phung Commune, said they thought the Irrawaddy dolphin was already extinct in Vietnam as there had been no recorded sightings in 30 years.
Many people were surprised by the news. Experts wanted to buy the dolphin for VND5m (USD214) for research, however, Thai refused and asked for VND40m for transportation cost.
The Irrawaddy dolphin lives in rivers, including the Mekong in Southeast Asia. It is considered an endangered species by the International Union for Conservation of Nature and protected under the Convention on International Trade in Endangered Species of Wild Fauna and Flora.
Lao Dong/Dtinews