Endangered species of migratory birds have been regularly recorded on beaches, river banks and vacant land plots in Da Nang between 2018 and 2020.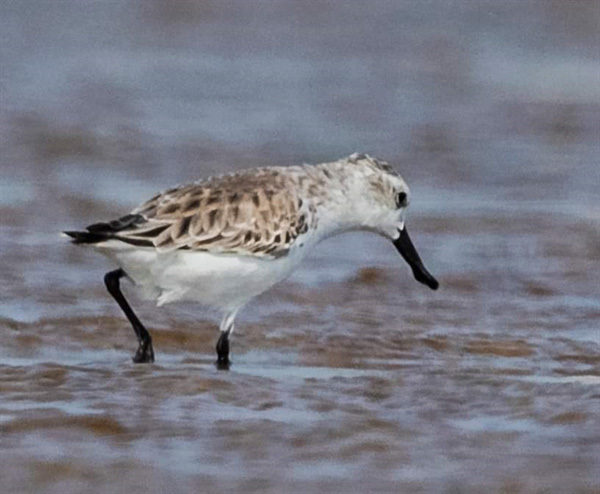 A spoon-billed sandpiper (Calidris pygmaea) is snapped on the beach of Tho Quang in Son Tra penisula in Da Nang. At least 50 migrarory birds and other bird species were found in the city. Photo courtesy Minh Ha 
A report from a group of conservationists from the biology and environment science faculty of Da Nang Education College released reports from surveys to help build a database for the Master Plan on biodiversity conservation.
Conservationist Pham Tai Minh said three spoon-billed sandpiper (Calidris pygmaea) individuals – listed as a Critically Endangered species with a population of less than 200 worldwide – were captured around the fishing port of Tho Quang in Son Tra peninsula.
Minh said the spoon-billed sandpipers were approaching fishing vessels.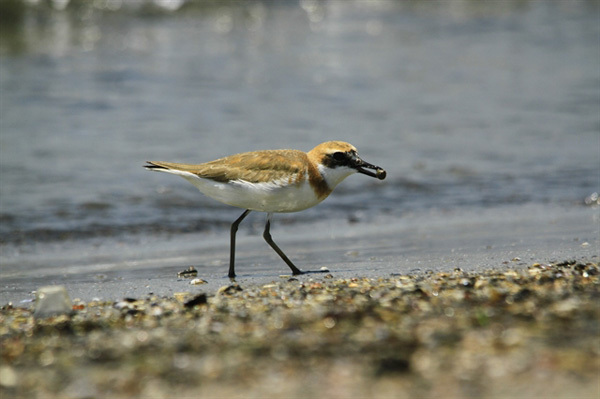 A greater sand plover (Charadrius leschenaultii) seeks food at Tho Quang fishing dock of Da Nang city. The site would be an attractive site for researchers on migratory bird species. Photo courtesy Pham Tai Minh 
He said various endangered migrant bird species that were listed in the Red Book of Vietnam, including purple herons (Ardea purpurea); red-necked phalaropes (Phalaropus lobatus); ruddy turnstones (Arenaria interpres) and pacific golden plovers (Pluvialis fulva) were seen.
"The endangered migrant bird species used to stop on the beaches of Da Nang and coastal sites for food and nutrition before their journeys from Siberia through Southeast Asia and the Himalayas," Minh said.
"The appearance of endangered bird species makes Da Nang a safe stop for migrant birds and a research site in the near future," he added.
Minh, who studies environment management at the college, warned that a lack of strict protection measures and human activities at the Tho Quang fishing dock would have negative impacts on the migrant bird population.
He warned the migratory birds would not find Tho Quang fishing dock a safe stop in the annual trip as the site would see the construction of the Ocean Park complex in the near future.
He also said snares and nets for birds – which can be found often in the buffer zone of the Son Tra nature reserve, land plots in the Asia Park and Ngu Hanh Son District – have emerged as dangers for wildlife and birds.
Minh said birds found at pet shops in Da Nang were illegally trapped by poachers.
"The city should reserve protective areas for migratory birds on the beaches of Da Nang and parks, and provide education programmes on wildlife and bird protection for local fishermen and residents."
The city approved the Master Plan on biodiversity conservation in line with sustainable development goals, and current nature reserves of Son Tra, Ba Na-Nui Chua and Nam Hai Van, or South Hai Van forest, will be key priorities for strict protection in biosphere reserves, natural landscape protection, herb and botanical gardens.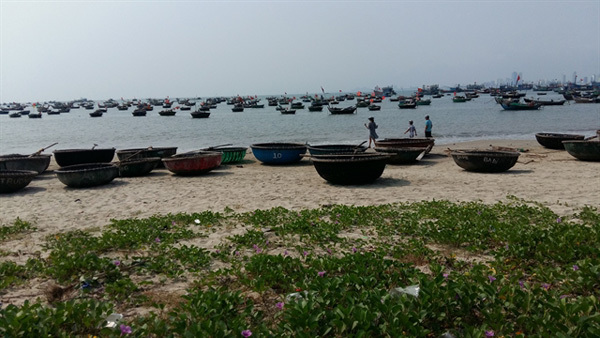 Fishing boats dock at Tho Quang beach in Son Tra peninsula. The site will be an ideal location for eco-tours and community-based tourism. VNS Photo Cong Thanh 
Several new flora and fauna species were found in reserves of Son Tra and Ba Na-Nui Chua between 2017-19.
Son Tra reserve alone had 43 plant species listed as endangered in Vietnam's Red Book and the International Union for Conservation of Nature (IUCN).
Two species – Owston's Cvivet and Spotted Linsang – and the first-ever pictures of Chamois or Sumatran Serow and Crested argus pheasant were recorded in the Ba Na-Nui Chua reserve in 2016-18.  VNS 

Vietnam became a member of the Ramsar Convention in 1989. So far, nine wetlands in the country have been recognised as Ramsar sites – wetlands of international importance.

More and more rare birds have flocked to the Bac Lieu Bird Garden, according to the garden's management board.