Vietnam Electricity Group (EVN) has denied the accusation that severe air pollution in Hanoi is mainly affected by its thermal power plants.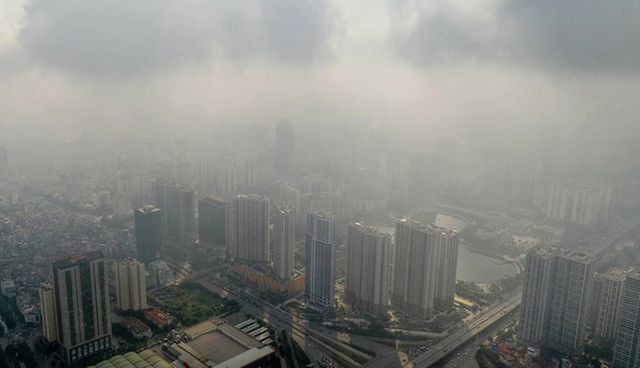 The air pollution in Hanoi
According to some experts, air pollution in Hanoi is mainly due to coal-fired plants located in the east of the city.
EVN, however, said that the plants, which are 60-200 kilometres to the east of the city, were too far away to pollute Hanoi.   
Hanoi is hit by high dust levels, but many localities, including those nearer the plants, have lower air pollution index.
The firm cited the information from Hanoi Environmental Protection Department saying that on the days the city has unfavourable weather conditions such as being sunny during the day, higher heat levels at night, smog in the early morning and low wind speeds.
It means that when wind speeds are low and smog covers the entire city, it is almost impossible for Hanoi to be hit by dust from plants which are 60-200 kilometres from the city, EVN added.
The group emphasised that it had conducted an environmental impact assessment of its plants which were approved by authorities. Areas which are 2.6 - 2.8 kilometres from its plants are hardest-hit by pollution from the plants.
Hanoi's air pollution has continued worsening, ranking among the worst cities in the world for air pollution.
Dr Hoang Duong Tung, Chairman of the Vietnam Clean Air Network, said the air pollution in Hanoi had much worsened since December 8.
"Hanoi has faced prolonged air pollution so far this year, not in spells as in previous years. The city needs to take urgent action," Tung added. Dtinews
Nguyen Manh

The Ministry of Natural Resources and Environment has written to the Government Office and the relevant ministries and agencies, inviting them to a meeting to seek solutions to the air pollution in large cities, especially Hanoi and HCMC.  

As air pollution in the capital city of Hanoi has reached alarming levels over the past week, the Ministry of Health has issued scores of recommendations for residents to alleviate the effects of poor air quality on their health.