Authorities in provinces and cities around the country should co-operate with sensor manufacturers, data management companies and scientists to make plans to monitor air pollution.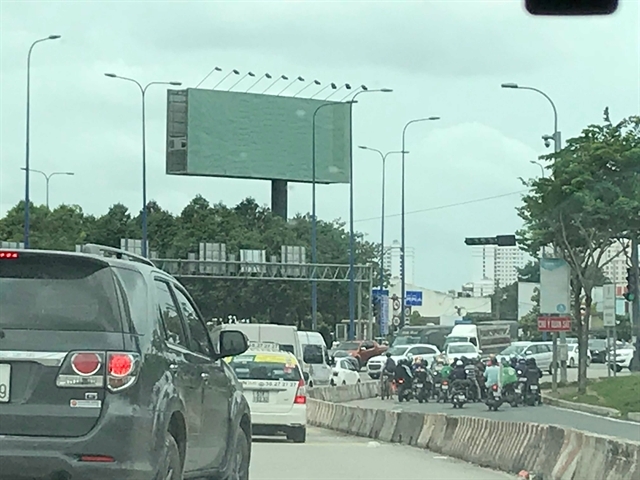 A street in HCM City's District 2. Vehicles contribute a great deal to air pollution in the city.
Assoc Prof Dr Mai Tuấn Anh, head of the Department of Natural Resources and Environment's division for climate change and meteorology said a smart monitoring system would help people take the initiative to protect themselves and authorities to take measures to reduce pollution.
Assoc Prof Dr Hồ Quốc Bằng, director of the HCM City Air Pollution and Climate Change Research Centre, said the city's pollution comes from industries, vehicles and other sources.
The Department of Transport should ban vehicles failing to meet technical safety standards, he said.
City authorities should also have programmes to reduce gas emissions by factories and enable them to use steam generators, he said.
The department should step up surprise inspections of factories to monitor emissions, he said.
"Clean" stoves should be provided to poor families in the city's five outlying districts to reduce pollution, he added.
Dr Trần Ngọc Đăng of the University of Medicine and Pharmacy's public health faculty said using clean stoves would also help reduce air pollution inside houses and improve their occupants' health.
More research to comprehensively assess air pollution in the country and the harm it causes to health and the economic losses should be done to help improve policy making, he said.
Nguyễn Thế Đồng, former deputy head of the Việt Nam Environment Administration, said data from the Ministry of Natural Resources and Environment showed the air in the country had become increasingly polluted over the last 10 years.
The Law on Environmental Protection had failed to keep up with the country's development, he said. Besides, it did not clearly spell out the responsibilities of each ministry and local agency.
The law needed to be amended to require businesses to furnish environmental management and protection plans before their project becomes operational, he said.
It is enough now if they furnish them after starting operations.
According to the World Health Organisation, PM2.5 levels, including pollutants such as sulphates, nitrates and black carbon, were 47.9 μg/m3 in Hà Nội and 42 μg/m3 in HCM City in 2016 while its recommendation is a maximum annual mean value of 20 μg/m3.
Air pollution was linked to more than 60,000 deaths due to heart disease, stroke, lung cancer, chronic obstructive pulmonary disease, and pneumonia in Việt Nam in 2016, WHO said.
The conference was organised by the Việt Nam National University HCM City's Institute for Environment and Resources and NGO Center for Hands-on Actions and Networking for Growth and Environment. — VNS

The air quality in Hanoi is becoming worse than usual. In suburban districts, people are burning straw and scraps of fabric though they have been warned of the risks.

Do you wear a mask when out an about in Vietnam? Maybe you should, as the pollution builds up.