Experts have voiced concern over a ministry proposal to destroy imported scrap that does not meet environmental standards if shipping lines fail to ship it back to the country of origin within 30 days.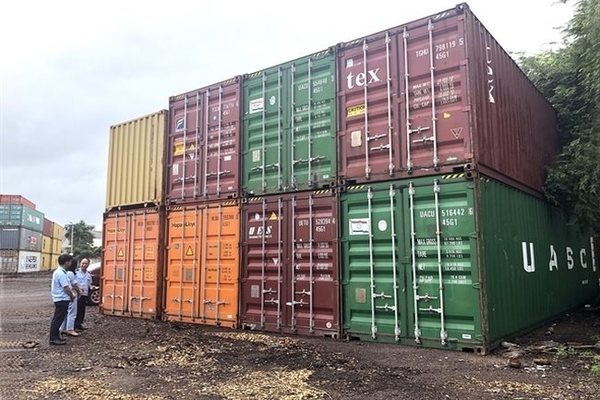 Unclaimed containers of scrap seized at Quy Nhon Port in the south-central coastal province of Binh Dinh – PHOTO: VNA
The Government recently demanded the Ministry of Natural Resources and Environment seek measures to return the imports of plastics scrap, following similar action taken by Malaysia and the Philippines.
The environment ministry was ordered to work with the ministries of finance, foreign affairs and transport to review related regulations and international conventions and create a proposal to move unqualified scrap shipments out of Vietnam.
In a plan drawn up by the Ministry of Finance, customs agencies will instruct shipping lines whose scrap shipments fail to meet the nation's environmental criteria to bear their goods out of Vietnamese territory within 30 days. If they fail to do so, their shipments will be destroyed.
Nguyen Le Ninh, a member of the Scientific, Technical and Environmental Advisory Council, with the HCMC Fatherland Front Committee, expressed concern over the feasibility of the 30-day timeframe.
"If a ship owner agrees to carry the waste out of Vietnam's territory, it will still be under duress to prove the company's service. They will not want to transport waste free of charge without knowing where to go," said Ninh.
If the ship owner has already discussed the issue with officials of the country where the waste originated, more time will be needed to complete negotiations and the necessary procedures, he added.
"Once their ships are free, they will carry the waste, since it is not a priority shipment. How can they make it in 30 days? It would be unreasonable for us to destroy the waste beforehand when they can do it at a later date," he stressed.
He indicated that the cost of environmentally friendly treatment is high, so rich countries resort to shipping their waste to developing countries. There is also a heavy environmental impact from scrap destruction, through burning, for example.
According to Ninh, containers of hazardous waste must be returned to their countries of origin. Otherwise, Vietnam will be at risk of becoming the world's dumping ground.
He noted that more drastic measures need to be taken against shipping lines that fail to satisfy the requests of ministries and competent agencies.
Pham The Hien, an environmentalist from the Vietnam Academy of Science and Technology, also disapproved of the scrap destruction proposal.
"As importers dare to ship hazardous waste, they must have a clear intention of doing so, or are even paid to carry waste to Vietnam. Other countries have already taken strong measures, but waste recall remains difficult, and being unable to send it back is almost inevitable," Hien remarked.
He added that "the post-destruction toxic substances could affect the environment for many generations" of residents.
As of late June this year, more than 500 containers of waste that failed to meet Vietnam's import requirements were re-exported, according to the Vietnam Maritime Administration.
Statistics from customs agencies showed that nearly 12,300 scrap containers remained in the country's seaports. Some 7,450 of them have been there for more than 90 days. State agencies are allowed to take any necessary steps to deal with them at their discretion, including auctioning away quality scrap and disposing of subpar quality scrap that pose a threat to the environment.
Imported scrap containers can be unloaded only if their owners have certificates that prove they are qualified to import scrap, including environmental permits and an allocated import quota.
After China banned imports of 24 types of scrap last year, with the ban later expanding to cover 32 types of solid waste, the amount of scrap diverted to Vietnam and other ASEAN countries has increased significantly.
Local firms have been importing scrap from various countries as materials for production or recycling, but many are forging import permits to illegally bring waste into the country. SGT

Up to 9,211 imported scrap containers had still been left at Vietnamese ports by the end of June this year with nearly half being stuck there for more than 90 days, the Vietnam General Department of Customs reported.

As of June, more than 500 containers of waste which failed to meet Vietnam's import requirements had been re-exported this year, said the Vietnam Maritime Administration on August 11.