For the past 2 years, the massive number of death in the fish population in artificial breeding farms on the La Nga river, Dinh Quan district, Dong Nai province has been leaving local fishermen devastated.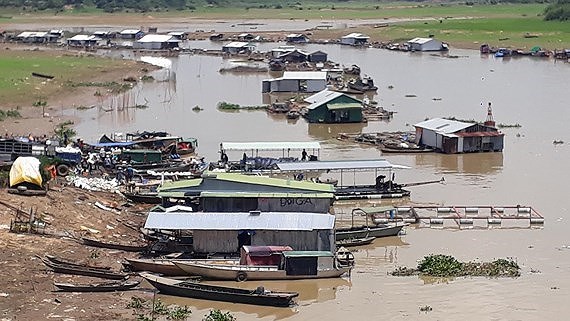 Highly dense fish populations in breeding farms is also a cause of water pollution on the La Nga river
Fishermen pushed into debt
In the morning of May 20, four days after the La Nga river's fish farms saw a series of fish death, fishermen were still moving heaps dead fish onto trucks to be sold as fertilizer.
Mr. Huynh Van Sang (47 years old), who has been breeding fish for nearly 30 years, grievously explained that the whole 32 tons of fish that he had been breeding have all died off, losing hundreds of millions of Vietnamese dong.
According to Mr. Ngo Tan Tai, Vice Chairman of Dinh Quan District People's Committee, this phenomenon often occurs during the shift from dry season to rainy season.
When there are heavy rainfalls, the oxygen level in the water drops significantly which causes fish to die in large number.
During this same period in May of 2013, reportedly 132 family businesses with 552 rafts were affected, with about 2,000 tons of fish being killed.
To minimize financial loss, the People's Committee of Dinh Quan district has instructed the People's Committees of La Nga and Phu Ngoc communes to trade fish right after harvesting, relocate rafts and cages into deeper waters, avoide spots where streams flow into the river directly, and to not release the fish stocks during their mating seasons.
Industrial waste is to blame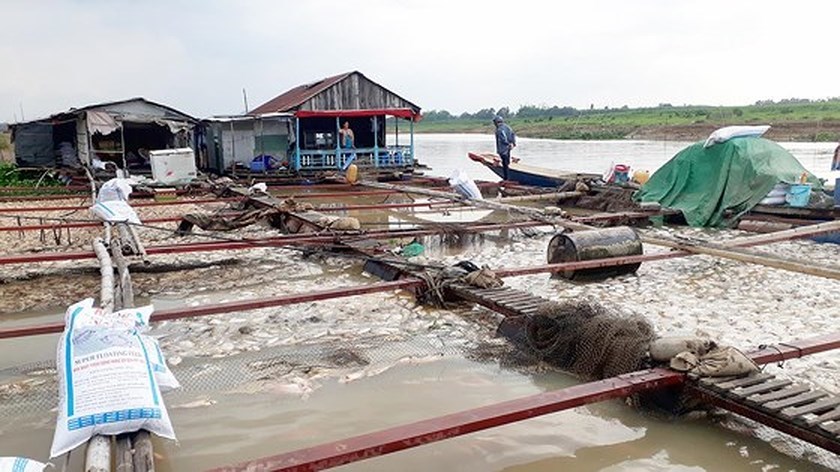 La Nga's breeding rafts covered in dead fish (Photo: SGGP)
According to fish farmers in the La Nga River, the sudden and unusual pollution is caused by some local production facilities.
Apparently, only fish farms downstream from where Tam Bung stream meets the La Nga river have been affected, while farms upstream from there remain untouched.
Tam Bung stream has a length of about 5km, crossing through Xuan Loc, Thong Nhat and Dinh Quan districts before merging into the La Nga river.
The stream used to be a source of drinking water for local people, but in recent years, a number of factories have been releasing waste into this area resulting in heavy water pollution.
"The aquaculture in Tam Bung stream has only been in this horrible state for about two years now. Before that, no matter how big the rain is, we only lose a few tons of fish every year," said a disgruntled fisherman.
At 11:00 on May 20, Sai Gon Giai Phong reporters were present at Tam Bung Bridge connecting Suoi Nho and Phu Tuc communes in Dinh Quan district.
At this time, the water of Tam Bung spring appears darkened with a thick and foamy layer on top of it, giving off a terrible smell.
Unbeknownst to fish farmers, the La Nga raft village might also be factoring into the pollution of the La Nga river and even Tri An lake as a whole.
The breeding rafts are mostly made out of plastic drums which were originally used to contain raw industrial additives.
Furthermore, the water suffers from household waste from hundreds of people living on the fish rafts.
Leftover fish food, antibiotic residues, and grease discharged from traveling boats are just a few more things threatening the well-being of the millions using downstream water, including citizens of HCMC.
Regarding the unusual death of fish on May 16, 2019, the Ministry of Natural Resources and Environment has issued a proposal to Dong Nai province to quickly sample La Nga river surface water to assess the level of pollution and deal with the facilities releasing waste water onto the river in coordinance with the Police Department of Environmental Crime Prevention and Control (PC05) of Dong Nai Provincial Police. 
Breeders in Mekong Delta suffers heavy losses from massive shrimp die-offs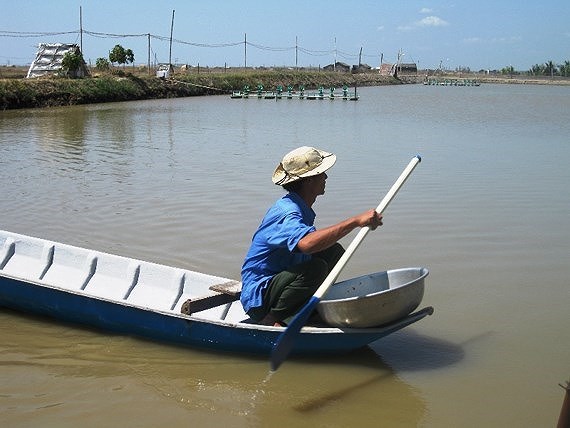 A shrimp pond in the Mekong delta
Breeders in the Mekong Delta have suffered heavy losses from massive shrimp die-offs due to white spot disease while scientists are finding treatment to help farmers to minimize the loss.
Approximately 115 million tiger shrimps and 358 million white shrimps died of the white spot virus within three days.
People's Committee in Tra Vinh today said that from the beginning of the year, farmers in the province have cultured 1.21 billion breeding tiger shrimp on 17,430 hectares of ponds; simultaneously, they also cultured more than 2 breeding white- legged shrimps on 3,600 hectares of ponds.
Bad weather and increase of salinity have had a negative impact on the region's shrimp breeding industry.
Farmers in Soc Trang, Ben Tre and Kien Giang are in despair because of climate change. Chairman of People's Committee in Ngoc To Communes Vo Van Choi revealed that shrimps in 51 hectares of ponds died. Massive shrimp die-offs and low price have made breeders cry.
Presently, a kilo of white-legged shrimps numbering about 50, 60, 100 now fetches VND120,000; VND110,000 and VND76,000 respectively while a kilo of tiger shrimp that has 30 shrimp is priced at VND155,000.
Breeders of baby clam in coastal areas in the region suffered the same fate. Tien Thanh Baby Clam Cooperative in Chau Thanh District of Tra Vinh Province announced 30-40 percent of baby clam in 9 hectares died because of bad weather.
SGGP/SGT