Vietnamese Thu Do Multimedia is the first company in Vietnam and Southeast Asia, and one of six Asian companies, to receive a certification on digital content copyright protection solutions.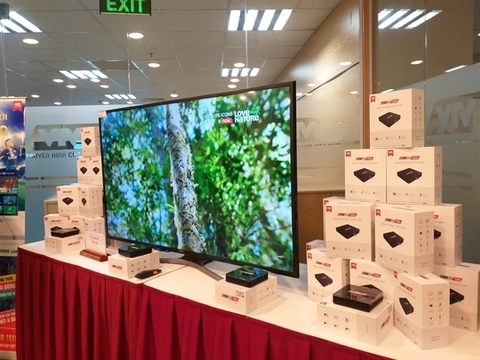 Sigma DRM solution is deployed for OTT TV named VTVcab On. — Photo courtesy of Thu Do Multimedia
Thu Do Multimedia JSC., announced its successful research and development of digital content copyright protection solutions, by combining DRM (Digital Right Management) and Finger Print Online (solution for detecting re-streaming video sources) last year.
This is a solution to protect digital content copyright online developed by Vietnamese engineers.
The digital copyright protection solution (commercially known as Sigma DRM) was tested and audited by Cartesian to meet international security standards.
Cartesian has now certified DRM solutions for 20 DRM Companies worldwide.
Cartesian is a professional provider of consulting services and management solutions for telecommunications, digital media and technology. Cartesian's Farncombe Security Audit Mark certification signifies to operators and service providers that the DRM solution has undergone evaluation and met security standards.
"Thu Do Multimedia not only names Viet Nam as one of the Top 20 global businesses in developing DRM solutions, but also creates opportunities for Vietnamese content owners to apply this domestic solution to prevent the ongoing trend of digital content piracy," the company said in a press release.
"We realise that copyright protection for digital content including protection of television content, videos, music and e-books is the most important. If copyright protection is impossible, there will be economic losses when content providers provide the content to users," Nguyen Ngoc Han, CEO of Thu Do Multimedia, reasoned why the company decided to invest in research and development of this DRM and Finger Print Online project.
"Moreover, content owners refuse to co-operate with Vietnamese content providers as their partners cannot protect their content," he added. — VNS

Better enforcement of the laws covering music copyright protection is needed to ensure the development of the Vietnamese music industry in the digital era, speakers said at a recent seminar in HCM City.

Lotus is believed to be a direct rival to Facebook in Vietnam, but it is still too early to say if it can defeat the giant.