Nguyen Van Thai, 39, director of Save Vietnam's Wildlife, has become the first Vietnamese wildlife conservationist and the only Asian to receive the 2021 Goldman Environmental Prize.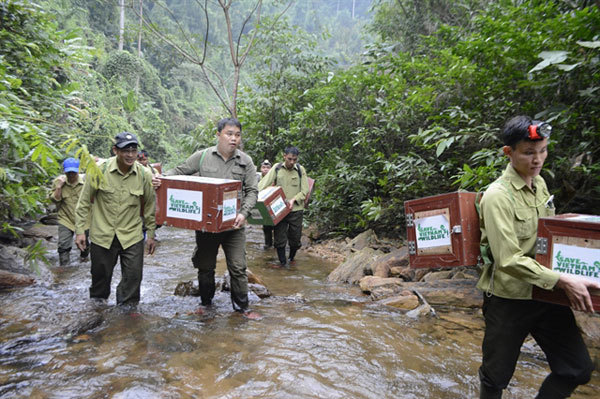 Nguyen Van Thai (second, left), 39, director of Save Vietnam's Wildlife during one of his trips to release pangolins into the wild. — Photo courtesy of Save Vietnam's Wildlife
The prize - the world's most prestigious award for grassroots environmental activists - honours grassroots environmental heroes from the world's six inhabited continental regions of Africa, Asia, Europe, Islands and Island Nations, North America, and South and Central America.
The prize, worth US$200,000, recognises individuals for sustained and significant efforts to protect and enhance the natural environment, often at great personal risk.
Thai was given the award at a virtual ceremony, which took place at 4pm (PDT) on Tuesday (June 15), for his contribution to rescuing 1,540 pangolins from the illegal wildlife trade between 2014 and 2020 and establishing Vietnam's first anti-poaching team under the co-management of Save Vietnam's Wildlife – a local non-governmental organisation and the Government since 2018.
The team has destroyed 9,701 animal traps, dismantled 775 illegal camps, confiscated 78 guns and arrested 558 poachers between June 2018 and December 2020, leading to a significant decline in illegal poaching in Pu Mat National Park in the central province of Nghe An.
Pangolins are the world's most heavily poached and trafficked mammal and three out of four Asian pangolin species are critically endangered. In the past decade, an estimated one million-plus pangolins have been poached worldwide, and Vietnam is a particular hotbed. In 2004, 60 tonnes of live pangolins were seized from poachers in Vietnam.
In 2016, Thai opened the Carnivore and Pangolin Education Centre, the first of its kind in Vietnam, in order to provide wildlife conservation courses to local children and the general public. He also gives training courses to customs officials, border guards and forest rangers on wildlife laws and how to properly care for seized pangolins.
As a result, nearly 8,200 children living in the buffer zone of Cuc Phuong National Park have been inspired in wildlife conservation so far. About 2,500 law enforcement officers have been given training courses on wildlife conservation.
Normally, prize winners are awarded the prize in-person at a ceremony at the San Francisco Opera House, the United States, in April, but this year, in light of the coronavirus outbreak, the prize will be awarded virtually and shared on social media on June 15.
Prize winners are selected by an international jury from confidential nominations submitted by a worldwide network of environmental organisations and individuals.
Five other winners of this year are Gloria Majiga-Kamoto, of Malawi; Maida Bilal, of Bosnia and Herzegovina; Kimiko Hirata, of Japan; Sharon Lavigne, of the United States; and Liz Chicaje Churay, of Peru.
The Goldman Environmental Prize was established in 1989 by late San Francisco civic leaders and philanthropists Richard and Rhoda Goldman.
In 32 years, the prize has had an immeasurable impact on the planet. To date, the prize has honoured 206 winners, including 92 women, from 92 nations, and has shone a light on many of the critical issues facing the Earth.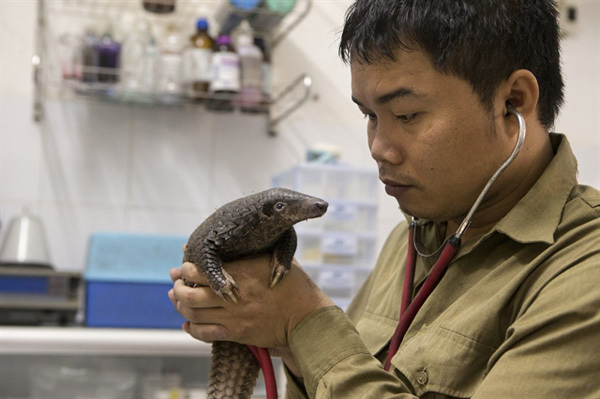 Thai checks a pangolin in his centre in Ninh Binh Province. — Photo courtesy of Save Vietnam's Wildlife
Surprised and proud
Thai said: "I was really surprised when I heard I was one of the prize winners this year."
Because he did not have to submit an application or apply, the organisers of the prize secretly found candidates, evaluated and then announced the winners, he added.
"I am also very proud to be the first Vietnamese working in the field of wildlife protection to receive the award," Thai said.
"This is the biggest prize I have received in my life so far," he said.
Thai planned to spend the money on the conservation of pangolins and wildlife in the future, he said.
The award was recognition for his tireless efforts in protecting wildlife, he said.
"I think the award will help me build more trust among international partners, sponsors and the Vietnamese community so that they will co-operate with me in wildlife conservation in the future," he said. 
Motivation for wildlife conservation
Thai grew up near Cuc Phuong National Park in the northern province of Ninh Binh. When he was a child, he witnessed a mother and baby pangolin being caught and killed by people in his village.
"Therefore, I decided to make pangolin conservation my life's work," he said.
He applied to study Forest Protection and Management at the Forestry University in 2001-2005.
Five years later, he went to the United Kingdom for a six-month course on wildlife conservation management in 2010.
Then he studied for a master's degree in wildlife conservation at the National University of Australia in 2012.
Thai said in 2014 – when he set up Save Vietnam's Wildlife – a centre to secure a future for Vietnamese wildlife, he realised that most of the wildlife conservation activities were momentary and short-term.
"They are not sustainable," he said.
Most projects to conserve wildlife at that time were carried out under the sponsorship of international organisations, he added.
Thus, he decided to establish the centre to save Vietnam's wildlife in the long-term, he said. 
Advantages and disadvantages
Thai said in recent years, pangolins had become more known, so many people in the community started taking action to protect the species.
"It is one of the advantages," he said.
Another advantage was he could combine his understanding of Vietnamese people in wildlife consumption and the knowledge he learned from international training courses and conferences for conservation, he said.
Talking about the disadvantages, Thai said building an operating mechanism for a non-profit organisation in Vietnam was a challenge, while there were not many guidelines as well as lessons in management and administration.
Additionally, worrying about funds to implement wildlife conservation activities was also a challenge, he said.
"The habit of consuming wild animals is deeply rooted in Vietnamese culture, so changing their habit is a really hard and long-term task," he added.
Moreover, the participation of non-profit organisations in wildlife conservation had not yet received much attention from State management agencies as expected, he said. 
Future plans
Thai plans to grow the model of wildlife conservation, carried out by Save Vietnam's Wildlife, to many national parks across the country.
He also wanted to contribute to the amendment of some legal documents, making use of wild animals a prohibited act and strongly condemning and sanctioning violators, he said.
They would continue developing the livelihoods for mountainous people around key conservation areas in the country, as well as enhancing information to change people's behaviour in consuming wild animals in Vietnam, he said.
They would also attract more businesses and individuals to contribute to wildlife and biodiversity conservation in Vietnam in the future, he added.
"One person cannot protect wildlife, one organisation cannot protect wildlife, but all of us can. We need everyone to protect wildlife," Thai said.
Source: Vietnam News

Vietnam has launched long-term and consistent efforts to strengthen law enforcement to protect wildlife and biodiversity and improve the livelihoods of people affected by declining biodiversity.

Young wildlife conservation scientist Trang Nguyen, full name Nguyen Thi Thu Trang, has dedicated herself to protecting our wonderful world. She talks to Minh Thu about the ambition and enthusiasm.