The Ministry of Information and Communications (MIC) has presented certificates to five Vietnamese firms that have cloud computing platforms that have met technical criteria to serve e-government and e-governance.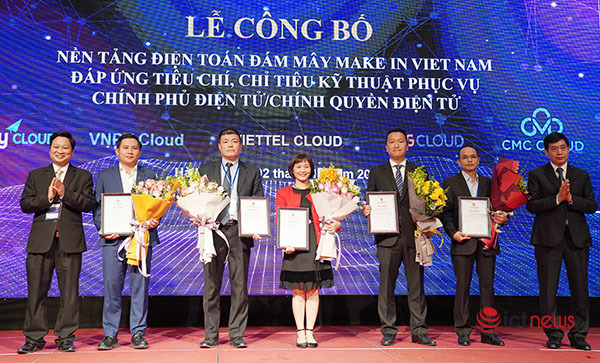 Director of Information Security Nguyen Thanh Phuc (first from right) and Deputy Director Nguyen Khac Lich present certificates to representatives of Viettel, VNG, CMC, VNPT and VCCorp.
The firms are Viettel, VNG, CMC, VNPT and VCCorp.
The event was part of the international seminar-exhibition entitled " Make in Vietnam cybersecurity - A key factor in national digital transformation". It was attended by Minister of Information and Communications Nguyen Manh Hung, Vice Chairman of the National Assembly's Committee for Science, Technology and Environment Le Quang Huy, Deputy Minister of Education and Training Hoang Minh Son, and many other officials.
The Ministry of Information and Communications has identified that digital transformation is a comprehensive, all-people revolution. In fact, digital transformation is taking place in all areas. To successfully conduct digital transformation, change of perception and business model is required.
Digital technology is about realizing those changes. The solution to speeding up the transformation is to develop digital platforms. In order to ensure efficiency and safety, and reliability, "Make in Vietnam" digital platforms will be a dominant choice for users.
One of the key pillars of digital transformation is national digital infrastructure. Transforming from a telecom infrastructure to digital infrastructure entails shifting to 5G broadband telecommunications infrastructure, fiber optic cable and cloud computing.
In order to accelerate the development of cloud computing platforms, thereby serving as an important foundation for national digital transformation, in April 2020, the Ministry of Information and Communications issued technical criteria to evaluate and select cloud computing solutions for e-government/e-governance.
The set of technical criteria includes 153 criteria, including 84 technical criteria and 69 information security criteria. A cloud computing platform that meet these 153 criteria is considered a modern and secure platform.
Shortly thereafter, the Ministry of Information and Communications instructed the Department of Information Security to urgently assess the "Make in Vietnam" cloud computing platforms.
Five certified locally-made cloud platforms:
- The Viettel Cloud platform serves applications for the fields of telecommunications, safety, network security, information technology. Built with a scale of more than 17,000 servers capable of storing over 30,000 Terabytes of data, this platform currently serves more than 14,500 customers nationwide, in the form of Public Cloud and Private Cloud.
- The VNPT Cloud platform is designed to be able to use many Cloud infrastructure with different technologies, providing resources to customers. Resources are allocated on different Cloud infrastructure with virtualization technologies and consistent business processes. With a total of 1,000 servers with storage capacity of 10,000 Terabytes, VNPT Cloud currently has about 800 corporate customers.
-The VNG Cloud platform is set up to provide solutions for many industries, with accompanying products and services to support and improve the efficiency of using applications for businesses. Aiming to save costs, time and resources, with a total of 5,350 servers with storage capacity of 12,100 Terabytes, VNG Cloud has about 650 corporate clients.
- The CMC Cloud platform is a cloud computing model providing services for government agencies, public administration agencies, and organizations operating in the fields of finance, e-commerce... CMC Cloud includes 278 servers with storage capacity of 15,000 Terabytes. The platform currently has around 6,000 customers.
- The BizFly Cloud computing platform of VNCorp includes 15 services to meet almost all infrastructure needs in a business. With a total of 1,000 servers totaling 20,000 Terabytes of storage capacity, BizFly Cloud platform currently has 1,200 customers, including 800 corporate clients.
Van Anh

The Vietnam Open Summit reflects Vietnam's commitment, strategy and action plan on developing and mastering digital technology based on open standards.