Local authorities in Tien Giang, Ben Tre, Long An, Kien Giang and Ca Mau provinces in the Mekong Delta have declared a state of emergency as seawater intrusion and drought are worsening in the delta.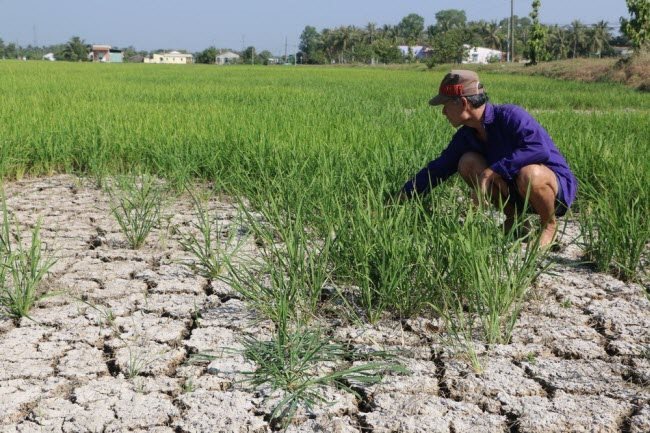 A farmer sits on a cracked dried paddy field in Long An Province. Five Mekong Delta provinces have declared a state of emergency as seawater intrusion worsens 
In Tien Giang Province, after the provincial government declared a level-1 state of emergency for seawater intrusion, multiple measures were immediately worked out to address the situation, VnExpress reported, citing Nguyen Thien Phap, head of the province's Division of Irrigation and Natural Disaster Prevention.
Specifically, the province dispatched forces to dredge canals and remove obstacles in the river bed to store fresh water; repair the sewer system; build dams to block seawater; operate the irrigation system more efficiently; and provide free fresh water to the local people.
It set up 185 sites equipped with 506 large water pumps for freshwater storage to serve production activities, he said.
After three months of applying these solutions, the province managed to ensure the fresh water supply for 140,000 hectares of the 2019-2020 winter-spring rice and other crops.
As for the neighboring province of Ben Tre, seawater intrusion has taken a heavy toll on the province since mid-January, prompting it to announce a state of emergency earlier than other localities. Roughly 5,000 hectares of rice paddies are at risk of being wiped out completely.
In Cho Lach District of Ben Tre, over 8,000 hectares of specialty fruits such as rambutans, durians and mangosteen, with an annual yield reaching over 100,000 tons, along with some 1,000 hectares of seedlings and other plants have been affected.
Local residents in many parts of the province have had to buy fresh water at up to VND200,000 per cubic meter for daily use.
Nguyen Thanh Liem, an agricultural expert in Cho Lach, said that the saltwater intrusion and drought are forecast to last for one more month. The local competent agencies have asked farmers to keep their crops alive through this calamity. It could take up to 10 years for salt-contaminated soil to fully recover, he pointed out.
In other provinces such as Kien Giang, the local authority announced a state of emergency from mid-February and ordered its district-level governments to prepare measures and stand ready to suppport local residents as well as advise them to save water.
According to Nguyen Van Tam, director of the provincial Department of Agriculture and Rural Development, Kien Giang constructed temporary dams on Long Xuyen Quadrangle, U Minh Thuong and west of the Hau River to prevent the saltwater flow and store fresh water for daily use and manufacturing activities.
The tough weather conditions have also wreaked havoc on 18,000 hectares of rice paddies and other crops in Ca Mau, while putting some 43,000 hectares of forestland at risk of catching fire. VNA

Provinces in the Mekong Delta are taking prompt actions to help local residents adapt to drought and saltwater intrusion during the dry season.