Quang Nam is seeking solutions for the conservation of critically endangered primates living in a primary forest, while creating stable livelihoods for log farmers in Tam My Tay, home to 50 endangered grey-shanked douc langurs.
Central province to restore forest for endangered langurs
GMS biodiversity conservation corridors to operate from 2019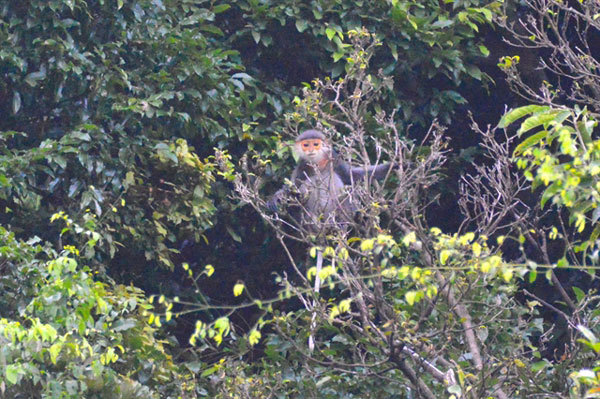 A gray-shanked douc langur on a tree in Hon Do Mountain in Nui Thanh District of Quang Nam Province. A population of 50 langurs is in danger of extinction due to the expansion of log farms and human activities. — VNS Photo Ai Tam
An 120ha-area of acacia log farms provides significant income for 40 households living in the commune, but the development of log farms has pushed the endangered primates to the brink of extinction.
A plan to transform the livelihoods of farmers while promoting eco-tour development, reforestation and gardening has been developed by the local authorities as a measure to restrict human activities around the habitat of the endangered primates.
A large area of acacia log farms is developed in the Hon Do Mountain in Quang Nam Province. The development of log farms had relocated a large area of natural forest for economic growth. — VNS Photo Cong Thanh

Log farmers would suffer losses if their acacia farms are located in the area of strict conservation for the endangered langurs.
This means that acacia farms will be gradually replaced by native trees or timber that provide food and shelter for the animals.
Vo Ngoc Danh, 56, from Dong Co Village, said he could earn VND500 million (US$23,000) from his 10ha acacia log farm after a four-year period, and a livestock and fruit farm added to his coffers.
"Acacia log farms provide major incomes for villagers living near the mountains of Hon Do, Hon Ong, Duong Bong and Duong Ban Lau. The langurs – which were found living in the natural forest area in 1997 – are safe living with the community," Danh said.
"We support the local conservation plan for the endangered species, but we need to adapt to other trades to make a living," he said.
Urgent
Vice chairman of Viet Nam Zoological Association, professor Dang Vu Khoi said small primary forests must be expanded to offer food and safe habitat for the langurs.
"It's very urgent. The species will die out soon due to the rapid development of log farms and harmful human activities in the area," Khoi said.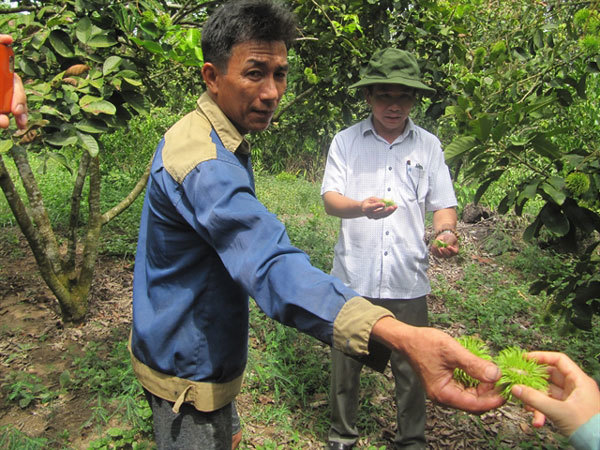 A farmer introduces visitors to his fruit farm in Nui Thanh District in Quang Nam Province. Fruit gardening is a sustainable solution in reducing human activities in natural forests. — VNS Photo Cong Thanh
"The 30ha natural forest will not be enough for the endangered langurs to reproduce."
Professor Dr Dang Huy Huynh said the urgent conservation of the grey-shanked douc langurs and expansion of forests would help Quang Nam Province set up a unique eco-tour and ecological education and research centre in Vietnam.
He said the primate is now only seen in central Vietnam, and its population is roughly 1,000 individuals.
In a recent survey, at least four herds with a total of 50 langurs were recorded living in the 25ha primary forest.
Tran Huu Vy, director of GreenViet, said the grey-shanked douc langur species was isolated by surrounding acacia log farms.
"Log farms separated the green corridor for the langur families for moving for food in natural forest – which supplies 75 per cent of food for the primates," Vy said.
"The langurs could only live in their 'small houses' (natural forest from 50m to 150m wide) on the top of mountains," he said.
He added that the langurs could not swing through log farms to approach the protective forest of Phu Ninh at 10km away.
Dr Ha Thang Long, head of the representative office of the Frankfurt Zoological Society in Vietnam, who is an authority on grey-shanked douc langur studies, suggested the 25ha area of natural forest should be expanded from Tam My Tay Commune to the riverhead forest of Phu Ninh and Tra Bong in neighbouring Quang Ngai Province to create a safe corridor for langurs.
He said it naturally helps build up a larger conservation zone for the endangered primates and forest in combination with a rich biodiversity and research centre of langurs.
Long said around 1,000 grey-shanked doucs were recorded living in forests of five provinces, including Quang Nam, Quang Ngai, Binh Dinh, Kon Tum and Gia Lai. Gia Lai's National Kon Ka Kinh Park preserves the largest number of langurs.
He said the grey-shanked douc langur – which is listed on the International Union for Conservation of Nature red list as one of the world's 25 critically endangered primates – could be seen in Vietnam.
An area of 150ha on forest restoration in the area would help establish a conservation site of the langur population.
Jeroen van der Horst, an expert from the German International Co-operation Development (GIZ), said urgent protection is an effective way in saving 50 individuals of the douc-population in the fragmented area.
"The natural habitat of 150ha should be the core zone where there is enough food for the doucs and where they can feel at ease so they can produce a new generation," Horst said.
"The community and the responsible government administrations should come to an agreement where the acacia plantations in the core zone are 'given back' to nature in order to restore the douc habitat. So, the legal owners should be compensated in a good way and the government administration should ensure a long-term conservation of this area," he said.
He said the right forest restoration model for this area is very important in setting up a good habitat for the douc population in the near future.
He suggested that planting native trees that are good for the douc habitat like Ficus trees whose fruits the langurs love to eat, and fast growing native trees should be planted to make it suitable for the forest to recover quickly.
He said NGOs like GreenViet and WWF are very necessary to support the local authorities and village households in the process of the langur conservation in Nui Thanh District.
"We have seen that Nui Thanh District is dominated by acacia plantations. It is logical that village households look for economic development and they see acacia as a good tool to earn money.
However, with ongoing climate change and loss of biodiversity worldwide, scientists agree that the best solution is restoring and managing natural forests. There is almost no animal life in monocultures like acacia plantations and these plantations are bad for the environment due to regular burning and soil erosion."
He also said local authorities could apply 'rainforestation farming' models in planting different native valuable timber trees, fruit and medicinal plants instead of acacia.
Dr Vu Ngoc Long, from the Southern Institute of Ecology said restoration of native trees is needed for feeding langur doucs, and human activities and approaching endangered primates should be restricted.
Vice chairman of the province, Le Tri Thanh agreed with plans of restoration for a 150ha forest as a habitat for herds of grey-shanked douc langurs from 2019-28, and the area would be built as a habitat and species conservation area.
The province also plans to include the forest restoration as part of the United States Agency for International Development (USAID)-funded Green Annamites Project.
Nguyen Du, a villager said herb gardens in the area would help increase incomes for local residents, and log farmers should be involved in forest restoration and langur protection.
Du said a group of 20 local residents joined a voluntary team to protect the langurs over past decades.
He said the langurs had been living in peace with local people, and no hunting activities were allowed in the area since the primates were found in 1997.
VNS