Looking at the herd of deer being protected in Kon Ka Kinh National Park, Gia Lai Province, Djưng feels very happy.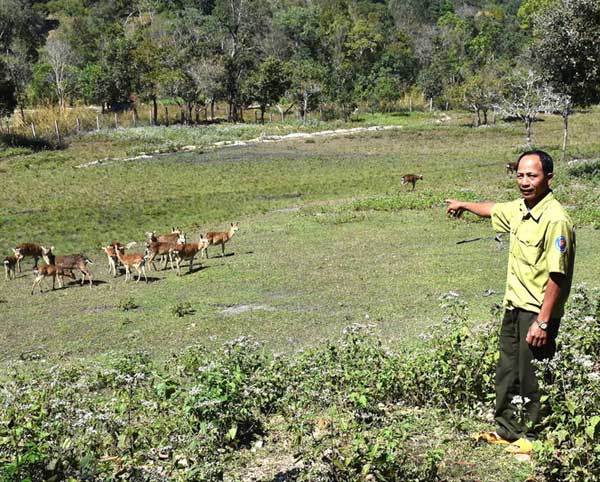 Djưng with a herd of deer in Kon Ka Kinh National Park, Gia Lai Province. — Photo tienphong.vn
Djưng from the Ba Na ethnic group in Đê Kjiêng Village, Ayun Commune, Mang Yang District, is now a ranger in the forest that he used to hunt in for a living for many years. 
He was one of the best hunters in the village, which is located nearly 100km from Pleiku City.
Djưng said, in the past, it was not easy to travel from the village to the centre of the district, so local kids like him only went to the forest to catch birds and pick mushrooms. 
As a kid who grew up hunting, he hunted with his brothers and uncles to catch gaurs, deer and wild boars.
That is why he knows every stream and every corner of the forest.
"I know the animal's behaviour. I know when they go to stream to drink water, go for food and where they like to sleep. So it is not difficult to set traps to catch them," Djưng told Tiền Phong (Vanguard) newspaper. 
"If I caught a small animal like a rabbit, I brought it home to cook for my family. The big ones could be sold to buy rice."
Now he has turned over a new leaf as he uses his hunting skills to protect animals and forest.
A few years ago, an animal expert came to Kon Ka Kinh National Park looking for gray-shanked douc langurs for an endangered species protection project. 
At that time, Djưng became a tour guide to help him during his research in the forest.
Djưng said he knows how long the animal had been in the forest and where they sleep from the smell of the animal's urine and faeces.
He helped the expert conduct valuable researche on gray-shanked douc langurs in Kon Ka Kinh National Park.
"The days in the forest with the expert were also the days I understood the value of the forest and animals thanks to his explanation," said Djưng.
"After that, he invited me to Da Nang to help him build a research and protective area for this species. The forest awakened my heart. But at that time I couldn't give up hunting because I couldn't find another job."
In 2019, Djưng and Chưn, Djưng's friend and another famous hunter in the village, were hired by the Centre for Environmental Education and Forest Environmental Services of Kon Ka Kinh National Park.
They were both assigned to serve ecotourism activities and find beautiful landscapes to help centre open new tours. They also share survival skills in the forest with tourists.
Talking about his friend, Djưng said Chưn was a hunter but also a logger at that time.
To make a living, Chưn hunted animals and illegally cut down trees for sale. 
"Once I saw young birds dead in a nest because their mother was shot or a pregnant deer thta had been killed. I loved them but I had to kill them and cut down trees for my family's livelihood," Chưn said.
According to A Mưm, another local hunter, for many generations, the lives of the local people have depended on the forest. 
He inherited hunting skills when he was a child, so he used those skills to earn a living.
Tran Van Thu, director of the Centre for Rescue - Biological Conservation and Development in Kon Ka Kinh National Park, said in previous years, the centre's officers had to work hard to find traps set by local hunters in the forest. 
"Following hunters' footprints, we can found dead animals and chopped down trees," Thu said. 
But now, the local hunters' awareness about the forest has changed. 
A Mưn works for the Centre for Rescue - Biological Conservation and Development and uses his hunting skills to remove thousands of traps in Kon Ka Kinh forest to protect animals. 
"Rescuing the trapped animals awakened me, helping me have a meaningful life," A Mưn said.
Djưng and Chưn also help remove animal traps in the forest with A Mưn. 
"Nobody wants to catch and kill animals. All of this is for a living. Now we are trying to explain and tell other people to stop hunting to protect the forest," Djưng said.  VNS

Every afternoon when the sun is about to set, Pham Van Cua and his grandchildren are excited waiting for flocks of white storks to come and rest on their hill.

Patroling the most remote part of Pu Mat National Park to stop illegal hunting of animals and illegal logging is a tough job, but the dedicated members of the local forest task force are up to the challenge.