Iron slag and waste mud sent by Formosa Steel Plant in the central province of Ha Tinh to two companies in Thai Nguyen Province for recycling far exceeded Vietnam's hazardous threshold with a pH value of 12.5.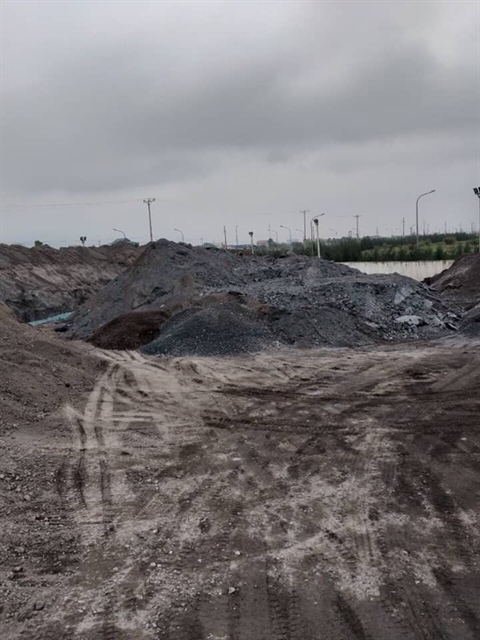 Waste at Formosa Ha Tinh Steel Plant. — Photo tuoitre.vnnh:
The information has been reported to the Ministry of Natural Resources and Environment by provincial authorities.
According to Tuổi trẻ (Youth) newspaper, six enterprises in Thái Nguyên Province had received waste from Formosa Hà Tĩnh via MHD VN Investment and Development Company to use as materials.
The provincial Department of Natural Resources and Environment inspected all six enterprises and took samples of iron slag at Trường Huy Company and waste mud from Bắc Thái Industrial Comapny to analyse for hazardous substances.
"The analysis of two samples shows that pH values exceed the hazardous threshold regulated in National Technical Regulation on Hazardous Waste Thresholds QCVN 07: 2009/BTNMT," the report said.
Bắc Thái was also found to be using a waste mud selection system not listed in its environment protection plant.
The company has received nearly 9,000 tonnes of waste mud of which 3,000 tonnes do not have any certificate of origin.
Thái Nguyên Province's Department of Natural Resources and Environment sent the results to their Hà Tĩnh counterparts, asking the agency to report to the Việt Nam Environment Administration and tighten management over waste transfers to the companies.
In September 2018, the administration allowed MHD Company to receive up to 70,000 tonnes of slag from Formosa Hà Tĩnh per year.
Enterprises were also asked to comply with regulations on environmental protection.
In April 2016, some 100 tonnes of fish were killed in the central coastal provinces of Hà Tĩnh, Quảng Bình, Quảng Trị and Thừa Thiên – Huế.
The tragic incident destroyed the maritime ecosystem and seafood resources, took away livelihoods and affected about 510,000 people, according to Government reports.
The tourism industry in coastal provinces was also negatively impacted.
In late June 2016, Formosa admitted responsibility for the incident and pledged to pay $500 million in compensation. — VNS