After giving a great deal of thought as to how to reduce the amount of waste that at times got out of hand in Da Nang, Tran Thi Hong, a native of the central coastal city, began to produce her own safe dish wash from organic household waste.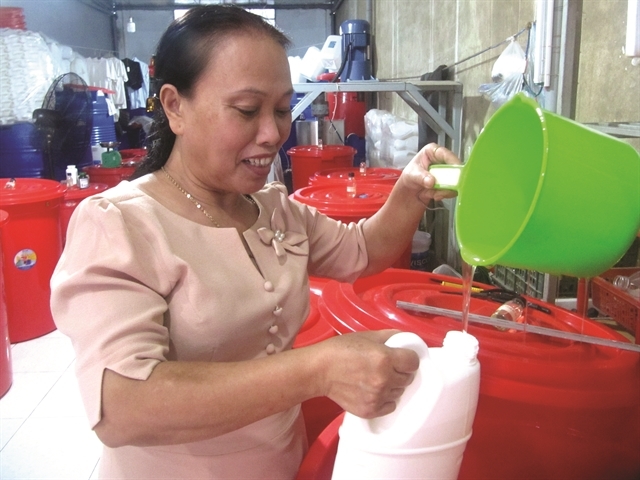 Tran Thi Hong checks the bio-tech dishwashing liquid made at her family shop. The start-up provides incomes to 140 poor families
Hong, 51, set up the bio-tech start-up despite the protests of her husband, who didn't or couldn't believe she would be able to recycle organic waste with just a basic knowledge of bio-technology.
Success did indeed come her way, though, after countless hours of failed experiments in her outdoor kitchen. Her first product was made from fermented organic waste and the Minh Hong Joint Stock Company came into being soon after, producing and selling dish wash that is safe for the health and good for the environment.
Her start-up cost her next to nothing to get off the ground and she then employed disabled people and members of poor families who previously relied on State support.
Production recycles 109 tonnes of household organic waste a month, or an estimated 10 per cent of the city's daily total, into 2,000 litres of safe dish wash liquid a day. Monthly salaries average VND5 million (US$217) and more than 140 people are on the payroll.
"I had to learn how to process organic waste by myself in the beginning, but support then came from the city's science and technology department," she said.
"Production is based on how our ancestors used to use fermented organic waste to create 'green fertiliser' for their crops."
Hong, who was a member of the Lien Chieu district's association for disadvantaged women and children, said her business only gives jobs to those truly in need of employment.
"The poor and disabled live almost exclusively on State relief of VND450,000 ($20) a month, as finding extra work is almost impossible for them due to their poor health or lack of skills."
"Beyond providing jobs for people in need, the company is also promoting the production and consumption of non-chemical cleaning agents in the community."
Le Thi Kieu Trang, 33, whose husband was paralysed after a spinal cord injury and who has a mother-in-law who is blind, has been a materials supplier to Hong's company for years.
Her family used to receive VND900,000 ($40) from the State for her husband and mother-in-law, but the bio-production arrangement has dramatically changed their lives.
"I can earn VND6 million ($260) a month from processing organic kitchen waste like vegetable roots, stems and leaves, which often end up in garbage bins," Trang said. "The waste I collect is fermented into a liquid for the final product."
"Hong has taught everyone involved in the production chain how to do their job, and we all contribute something towards 'safe' production."
'Love mum'
Not one to rest on her laurels, Hong recently created a multi-functional liquid made from leftover rice she picks up at restaurants, hotels, and company kitchens, which is mixed with medicinal herbs.
The new product, 'love mum', sees 30 people with disabilities processing 300kg of leftover food from restaurants into 100kg of final product a day.
"Our workers who collect and classify the leftover food into what's needed for production," Hong explained. "At least 60 per cent of fermented leftover food is mixed with herbal materials for dish washing liquid, while 40 per cent is processed into dried cattle feed or bio-mass fuel."
'Love mum', she said, would also help poor farmers who can grow the necessary medicinal herbs.
At least 106 agents and three distribution companies nationwide are now selling the bio-tech liquid dish wash, as well as shampoo, floor detergent, and liquid hand wash.
Production has potential, Hong said, because so much waste is not recycled into useable products as yet.
Coffee helps clean
Nguyen Thi Man Vy, 29, from the popular tourist destination of Hoi An ancient town in the central province of Quang Nam, began making skincare products from saffron seven years ago after her partner struggled with acne.
She also started out with nothing, like Hong, but now makes handmade cosmetics from medicinal herbs and fruits and has left her old job with the government.
"We make 30 different products, including soap, skincare cream, shampoo, lipstick, and essential oils," she said. "We started with simple products that housewives could make to earn a little extra."
Her coffee soap, made from coffee waste she collects at cafés around Hoi An, was developed with help from a group of Japanese volunteers who were taking an annual trip to the ancient town.
"The Japanese volunteers took the coffee waste and showed me how to recycle it into money-making products, to cut waste at garbage dumps, clean up the environment, and create jobs," Vy said.
"There are almost 1,000 cafes in Hoi An and they all use coffee beans, which encouraged me to make the coffee soap from their waste. What we are doing is creating a circular economy and co-existing based on eco-production."
After the coffee waste from the cafés is processed into safe soap, they then sell it to their customers. It doesn't get much more circular than that.
Vy has also been trying to produce cosmetics from kumquat, hoping to develop a year-round crop for farmers in Cam Ha Commune in the town, who only grow kumquat bonsai for Tet (the Lunar New Year).
Both Hong and Vy are blazing the trail in getting start-ups going that recycle waste into useful products while cutting inputs and input costs and helping ease the burden on the country's bursting garbage dumps.
VNS



Only 155 construction works have been certified as green as of Q3 2020, according to IFC, a modest number compared with other Southeast Asian countries and the rest of the world.