Various locations in Krong Ana District in the Central Highlands province of Dak Lak have become overloaded with trash, upsetting local residents while posing a serious environmental threat.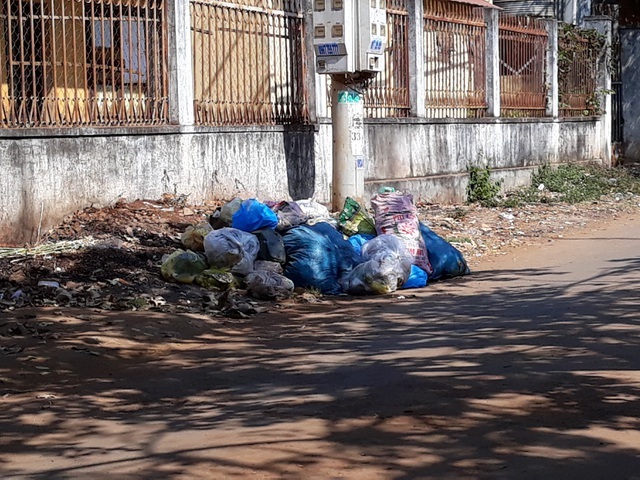 Garbage on the sidewalks and along a street in Krông Ana District in the Central Highlands province of Đắk Lắk. — Photo dantri.com.vn
Hà Thị Hoa, a resident at Buôn Trấp Town's Hoàng Văn Thụ Street, said piles of rubbish have stacked up over the past week on the street, adding that it was causing a foul smell.
"If the situation persists, people's health will be seriously affected," she said.
Đỗ Thanh Nhị, another resident, agreed.
"We have to pay an environment fee every month. However, we don't know why garbage collectors don't collect the trash as they did before," he said.
"My customers do not want to enter my restaurant as a massive amount of garbage has been piling up in front of my house.
"We want the local government to solve the problem and make a clean environment for us. We can't stand it anymore as it is too polluted," Nhi said.
According to Phạm Ngọc Thiệm, vice chairman of Buôn Trấp Town People's Committee, Krông Ana Urban Environment One-Member Ltd. Co took charge of garbage collection by the end of last year.
However, the company didn't win the bidding for this year so local authorities have assigned Thi Phương Construction, Production and Trading Company to take over the task.
Due to a lack of specialised vehicles, the company use self-modified, four-wheeler vehicles, so the garbage collection was not effective enough.
Upon receiving complaints about the situation, local authorities have submitted a report to the provincial People's Committee for a solution. — VNS

A group of students from the Biotechnology – Microbiology Faculty of Can Tho University has joined forces to implement a project on building a modern organic waste treatment process.

'Hoa ruoi' (Hoa fly) and 'Hoa linh den' (Hoa Black Soldier Fly) are the nicknames given to Nguyen Trong Hoa by his friends. The student raises flies to treat waste.