The Gia Lai Forest Protection sub-department has asked the police to investigate the recent destruction of a pine forest, Thanh Niên (Young People) newspaper reported.
Villagers protect sandalwood forest in Gia Lai
Pine trees destroyed every day in Gia Lai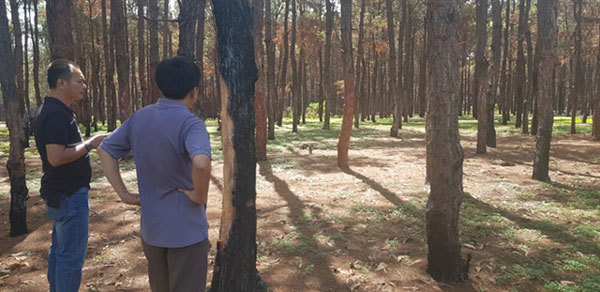 Hundreds of old pine trees in Đăk Đoa District, Gia Lai Province, in the Central Highlands have had their barks stripped in recent months, fatally in many cases. — Photo thanhnien.vn
Duong Hoang Nguyen, head of the sub-department's legal office, said hundreds of mature pine trees had their barks stripped in recent months, mostly in Mang Yang, Đăk Đoa and Ia Grai districts, An Khe township and Pleiku City.
Many trees died as result, he said.
In Đăk Đoa alone, around 150ha of trees had been stripped this way.
On Saturday local authorities held an emergency meeting to discuss a solution to the problem.
In Ia Der Commune, Ia Grai District, more than 60ha of 30- to 40-year-old pine trees have been severely damaged.
According to reports by the Bac Bien Ho Protective Forest Management Board, over 1,710 pine trees had been debarked and 276 have died.
The newspaper said that tree bark is used to plant orchids and to line pet cages.
In March province forest rangers had arrested a trader for buying 3.5 tonnes of pine tree bark.
VNS