As a travel enthusiast, Nguyen Thi Da Ly, 28, spends her leisure time and money on trips to explore the world.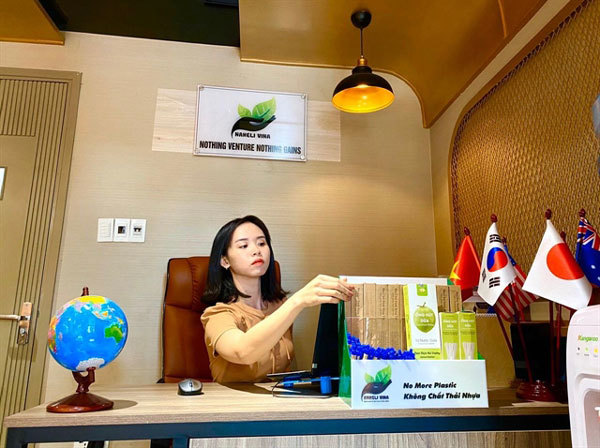 Nguyen Thi Da Ly at the Naheli Vina office in HCM City's District 2. Photo courtesy of Nguyen Thi Da Ly
After her trips, what most impressed the young lady from HCM City was the widespread awareness of environmentally-friendly products around the world.
Ly said: "When I went to Japan, I saw people using cloth bags to go shopping. In Bali, Indonesia, restaurants use fast food containers made from leaves. Conferences at hotels in China use paper ballpoint pens."
Travelling to many places, she had the opportunity to learn interesting things from other countries.
When she returned home, she was more and more worried about the problem of over-using disposable plastic products.
Items like plastic bags, straws, coffee stirrers, soda and water bottles, and most food packaging are over-used in Vietnam, Ly said.
Many cities like Da Nang have launched campaigns to 'Say No' to single-use plastic products to deal with pollution and waste treatment.
But it seems that people are unfamiliar with environmentally-friendly products.
She came up with an idea of doing something both to satisfy her business and be useful to the society.
Challenge to start
After graduating from the National Academy of Public Administration in HCM City in 2014, Ly worked for Doosan Heavy Industry and then for Samsung Electronics HCMC CE Complex.
In 2015, she decided to join hands with a few friends to set up a construction equipment rental company and the company has been growing ever since. Ly now owns 20 per cent of the shares at the company.
In 2017, she decided to quit her job at Samsung with a salary of US$1,000 per month to set up her own company, Naheli Vina Ltd. Co., located in District 2's Thao Dien Ward, specialising in environmentally-friendly products.
"My start-up idea faced objections from my family, and especially my ex-boyfriend," she said.
"Everyone thought it was an unrealistic idea."
"People say producing eco-friendly products is time-consuming and not profitable, while there aren't very many customers."
"My parents told me a stable salary of $1,000 a month is enough for a young lady, while the start-up idea might not be successful."
"My ex-boyfriend didn't like me spending so much time on the start-up business, so he gave up on the relationship."
"At that time, I felt quite sad, but I was consistent with the path I chose and wanted to prove to people."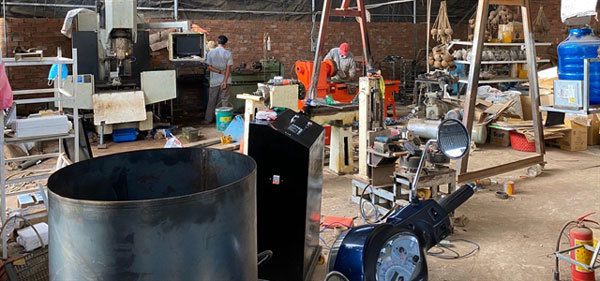 A workshop in Ben Tre Province's Chau Thanh District.

Ly discussed her ideas with a cousin, who had a workshop specialising in handicrafts in Huu Dinh Commune of Ben Tre Province's Chau Thanh District. They agreed to use his workshop's facilities and workers for the products and she decided to invest her savings of VND300 million ($12,900) in upgrading the workshop.
Now, the workshop covers 1,200sq.m with eight workers and two managers. It has a daily production capacity of 10,000 products.
The workshop's simple but very practical products include bamboo toothbrushes, slippers, coconut straws, paper pens, as well as wooden cutlery and chopsticks.
According to Ly, although these are small items, they are daily products that people often dispose of.
From raw materials to production techniques, she had to learn how to do everything.
In addition to ideas from practical tours, Ly also spent time researching in books and online, then designed products suitable for consumers' tastes.
"I learned and then I developed. I had to test each product a dozen times. After each product was made, I learned from experience to improve products in the following phase," Ly said.
"Therefore, the money I spent on researching and designing products accounts for a big amount of my investment capital."
There have been quite a few factories producing eco-friendly products, but most have not yet been able to compete on price with plastic products. Therefore, they only exist for a short time.
To minimise production costs, Ly turned to recycled materials such as recycled paper or coir, bamboo, and grass, coconut shells and coconut tree's wood. These are cheap materials that are available locally.
In addition, she also reduced costs by building a sales team through social networks.
Currently, there are agents in Da Lat City in Tay Nguyen (Central Highlands) Province and Can Tho City.
Naheli Vina products cost only 50 per cent of similar products' price on the market.
The price of a bamboo or coconut tree toothbrush is VND20,000, a pair of coir slippers goes for VND60,000, a coconut straw is VND50,000 and a paper pen just VND6,000.
Naheli Vina's targeted customers include restaurants, hotels, hospitals, cafes, schools and businesses. Currently, products are available in supermarkets such as Co.op Mart, Bách Hóa Xanh (Green Mart), Guardian and nearly 10 local hotels.
Regarding strategic goals in the near future, she said that the whole society has started to pay attention and switch to environmentally-friendly products, so the potential of the market is very big. The company has also exported products to China and Cambodia.
Passionate about yoga, Ly said practising yoga is hard at the beginning, just like doing business. "But when you cross the limit, you will love it." — VNS

Director of the Environmental Technology Centre under the Institute of Environmental Technology Phung Chi Sy speaks to Hải quan (Customs) newspaper about measures to help business tap opportunities to develop eco-friendly products.

Two students from the HCM City University of Economics and Finance have made biodegradable products from potato starch in an effort to reduce the use of single-use plastic items.

The attention businesses are paying to strategies and measures to protect the environment is a good augury for the sustainable development of the economy.

Two students Mai Cao Ky Duyen and Ngo Thi Diem Thuy from Hue City have successfully developed a new type of eco-friendly and waterproof paper that can be used as a viable alternative to plastic.