Google I/O Extended, an annual gathering for software programmers, is scheduled to take place in Da Nang on June 15, attracting 1,000 participants and featuring over 30 booths and 20 speakers.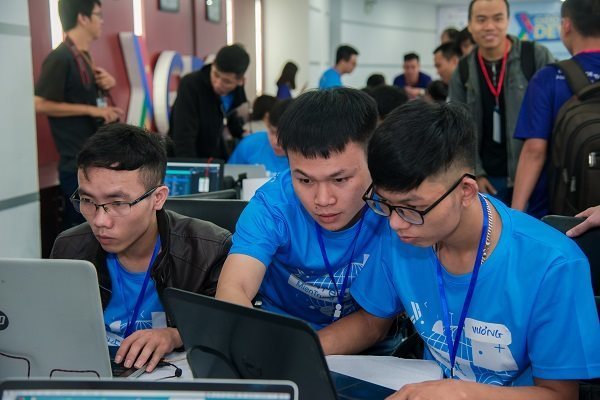 Young people attend a hackathon in this file photo. Google I/O Extended is scheduled to take place at Danang-based Grand Mercure Hotel on June 15, attracting some 1,000 participants 
As one of the largest annual events of the Google Developers Group (GDG) in the information technology sector, Google I/O Extended in Danang City will be organized by Danang Entrepreneurship Support, in partnership with GDG MienTrung.
Apart from kicking off in the central coastal city of Danang, the fourth edition of the event will concurrently be launched in the cities of HCMC, Hanoi and Can Tho, attracting more than 3,000 attendees.
In Danang City, the event is expected to attract some 1,000 students of technology or information technology and developers or programmers at multiple firms and organizations.
The event will give the participants insight into the spirit of technology creation and introduce new functions and initiatives in the information technology sector.
"This is our greatest motivation in maintaining the event and its activities," Phuong Nhi, a founder of GDG MienTrung, said.
Many important activities will be presented by local and international experts at the event, according to Nhi. This year's event is expected to welcome Sami Kizlibash, Google developer relations program manager for Southeast Asia, who will provide updates on Google's technologies and supporting programs.
Artificial intelligence, machine learning, Flutter as an open-source mobile application development framework, gaming, AR-VR, and Firebase are the main topics to be featured at the event.
In addition, the event will announce some important updates, such as the projected building of Google Student Club at universities linked with the information technology sector and the launches of Google Cloud Group and Womentechmakers Community in Danang City as well as the Google Summer of Code program for students.
As many as 30 booths at the event will exhibit technologies, tech projects and recruitment programs. SGT
Nhan Tam