Pham Dat, 28, started up his own café shop – Tipi Coffee – in the central city of Da Nang in 2014, but started going 'green' by using bamboo straws two years later. The shop started using glass and stainless steel straws in 2017.
Young man earns big from exporting bamboo drinking straws
Environmentally friendly drinking straws
A member of the Green Hero group promotes reusable straws at a cafe in Da Nang. The group raises awareness of plastic pollution in the city. — Photo courtesy Green Hero
Dat, who graduated from Da Nang Architecture College, does not allow single-use plastic straws and cups at his shop, saving up to 200 such items finding their way into the city's dumps every day.
"I chose to use glass and bamboo straws instead of plastic ones. Each glass straw costs VND1,300 ($0.05), while VND20,000 ($0.7) can buy 120 plastic straws, but the glass ones can be reused," he said, adding that his café prepares paper cups for take-away coffee or delivery.
He said his café shop also acted as a recycling collection point, where people can drop off used items like batteries.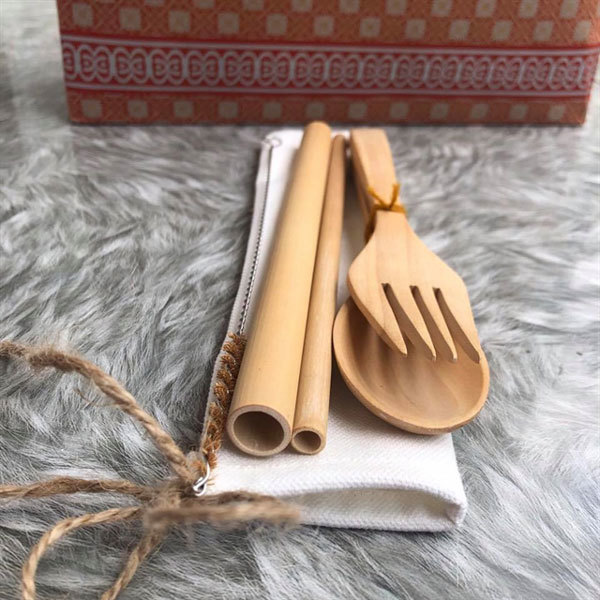 Bamboo straws and wooden cutlery can be used to replace plastic. Vietnam plans to eliminate single-use plastic by 2025. Photo courtesy VietBamboo

Nguyen Nu Phuong Vi, from the Khai Nguyen Import-Export Trading Production Company, said his company has supplied hundreds of customers with rice straws, wooden spoons, forks, knives and coconut shell bowls.
"Despite the higher price, bamboo straws can be reused for up to one year if they are properly cleaned and stored. Rice straws are single-use, but are compostable," she said.
Green hero
Nguyen Luu Ngoc Han, 19, a second-year student at the Da Nang Economics College, and a group of 30 volunteers established the Green Hero Group in 2017 to raise awareness over the damage caused by plastic straws.
The group has persuaded the owners of 15 cafes in the city to use reusable and compostable straws made from glass, bamboo, rice, paper or stainless steel.
"Next we plan to campaign against styrofoam packaging, which can be toxic for diners and polluting to the environment," she said.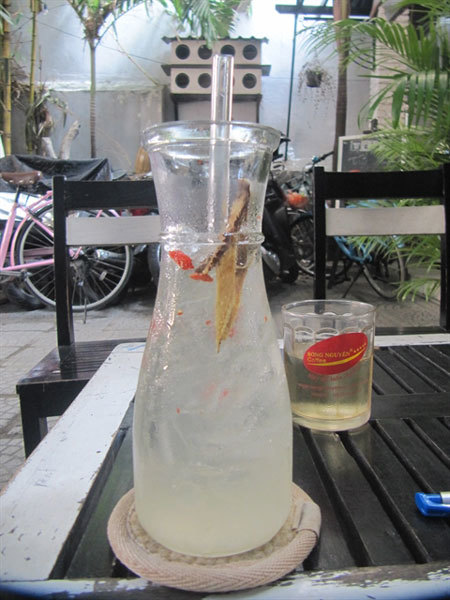 A glass straw is used at Tipi Cafe in Da Nang. The cafe has saved hundreds of plastic straws and cups from ending up in the landfill. — VNS Photo Cong Thanh

Huu Tu, the owner of a chain of six organic food shops – An Phu Farm – in Da Nang, Quang Ngai and Quang Nam, said his shops have started wrapping vegetables in banana leaves instead of plastic.
"We use at least 50kg of banana leaves each day, cutting the use of plastic bags by 50 per cent. The 'green' option doesn't cost so much," Tu said.
"Most people go shopping on their motorcycles, so they prefer using plastic bags to take their food home. We offer them starch bags that are biodegradable," he explained.
Tu said the starch and paper bags now make up 45 per cent of the shop's packaging.
He said buyers get a 3 per cent discount if they bring their own bags instead of taking bags at the shop.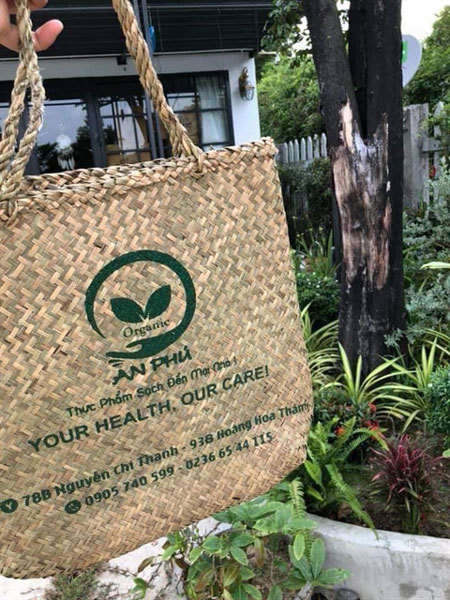 Reusable shopping bags can drastically cut plastic waste. Photo courtesy An Phu Farm

Stefano Maccagno, general manager of the Four Points by Sheraton Da Nang, said the coastal hotel has been eliminating single-use plastic.
He said the hotel managed to cut the use of 130,000 plastic bags by installing bigger dust bins, while adopting paper straws and bagasse packaging.
At a dialogue in Da Nang recently, deputy environment minister Vo Tuan Nhan warned that plastic pollution has reached alarming levels, and Vietnam creates 1.8 million tonnes of plastic waste each year, of which only 27 per cent is recycled.
"Vietnam could turn into a global plastic waste dump as the country consumed 41.3kg of plastic per capita – a 200 per cent increase – between 1990-18. The Government plans to eliminate single-use plastic nationwide by 2025," he said.
"We encourage the use of environmentally-friendly products in the community and call for the end of plastic bags and single-use plastic products."
Hoang Van Thuc, deputy head of the environment administration, under the Ministry of Natural Resources and Environment said: "Despite increasing from VND11,000 to VND50,000 per kilo, plastic bags are still cheap and popular," Thuc explained.
"There needs to be a heavy tax on plastic bags and products, while boosting recycling and alternative production," he suggested.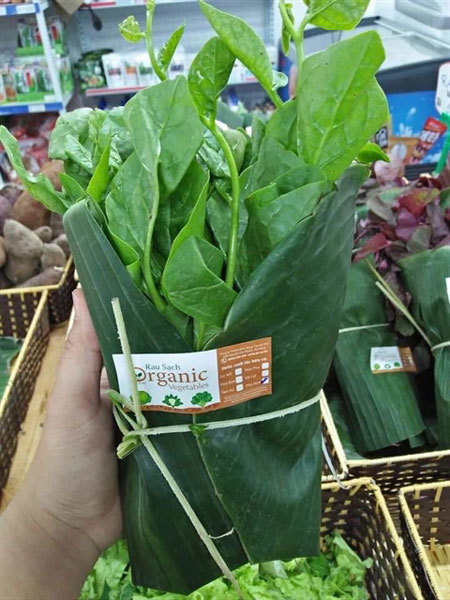 Banana leaves are used to package vegetable at Da Nang-based An Phu Farm. The environmentally-friendly material is popular among customers. Photo courtesy An Phu Farm

Vice director of Da Nang City's natural resources and environment department, Dinh Quang Cuong, said 75 per cent of State buildings in the central city stopped using plastic bottles from 2018, and more recycling bins were installed at public sites.
He said owners of 80 fishing vessels have committed to not dumping rubbish at sea. VNS
Cong Thanh