The population of Tonkin snub-nosed monkeys, a rare species indigenous to Vietnam, has developed considerably in the northernmost province of Ha Giang thanks to conservation efforts.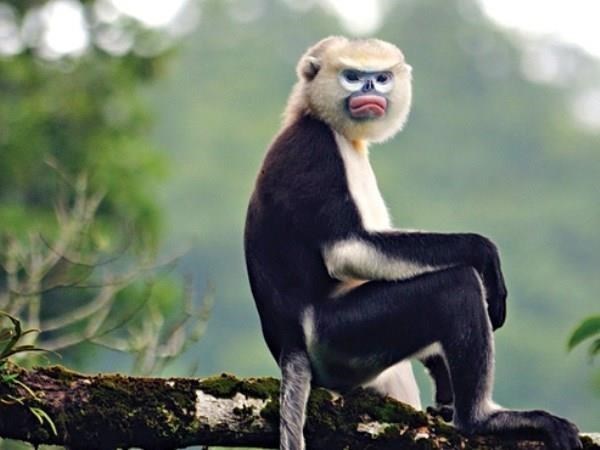 A Tonkin snub-nosed monkey(Photo: FFI)
In 2002, about 60 Tonkin snub-nosed monkeys were spotted in Khau Ca forest, one of the six special-use forests of Ha Giang. Shortly after that, a conservation project for this species was implemented with the support of Fauna & Flora International (FFI).
The monkeys live mainly in the districts of Vi Xuyen, Bac Me, Quan Ba, and Yen Minh – some of which belong to the Dong Van Karst Plateau Geopark, itself a member of the Global Geoparks Network.
Over the years, the FFI and local forest rangers have conducted regular patrols and monitoring in areas habouring Tonkin snub-nosed monkeys, collected biodiversity data, and stayed updated with information about activities affecting the animals' habitats.
Hoang Van Tue, former head of the natural conservation division at the province's forest protection sub-department, has spent over 10 years researching and monitoring the development of Tonkin snub-nosed monkeys. He said the species' population has recovered considerably in Ha Giang, with many scientists and local residents having seen adult and baby monkeys.
There are about 200 Tonkin snub-nosed monkeys in the world at present, some 180 of which can be found in Ha Giang province.
According to FFI experts, although efforts have been made, conservation activities still face certain obstacles. While the awareness of residents in the Khau Ca preservation area remains modest, their livelihoods are still largely dependent on natural resources and some still practice hunting. Additionally, the habitat of this species is wide and in difficult-to-access areas, challenging communication efforts.
Bui Van Dong, head of the provincial forest protection sub-department, said that in order to promote conservation, his agency will continue working with relevant forces to step up communications to raise public awareness of the species protection and consolidate community-based groups for forest protection and fire prevention in living areas of Tokin snub-nosed monkeys.
More attention from the FFI and support from local authorities and people are also necessary, he added.
In August 2015, the Prime Minister issued a decision on the establishment of the Du Gia National Park in Dong Van Karst Plateau. This national park was set up based on the merger of the Du Gia Nature Reserve and the Khau Ca Tonkin snub-nosed monkey conservation area. It covers a total of over 15,000 ha in the communes of Tung Ba (Vi Xuyen district), Minh Son (Bac Me district), and Du Gia (Yen Minh district).
The park's establishment is believed to help with the conservation of Tonkin snub-nosed monkeys, as well as other animals in Ha Giang. –VNA