Ha Giang Province's signature shan tuyết tea trees have been recognised as part of the Ancient Tree Heritage of Vietnam.
The Nature and Environment Protection Society of Viet Nam, the Viet Nam Tea Association and relevant officials of Ha Giang Province issued a joint statement announcing the decision in a ceremony at Nam Ty Commune over the weekend.
Shan Tuyet Tea harvesting season in Ha Giang
Vietnam's unique ancient Shan Tuyet tea forest in pictures
Ceremony dedicated to ancient tea trees
Enjoying tea in Tay Con Linh mountain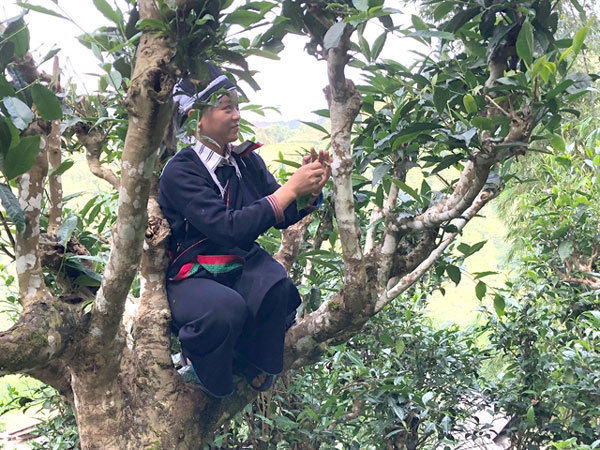 More than a million ancient shan tuyết tea trees in Ha Giang Province have been listed and documented for protection. — VNS Photo My Ha
The rocky mountains of Ha Giang, home to the magnificent terraced rice fields, also nurture a large community of ancient shan tuyết trees. In Hoang Su Phi District alone, more than 2,000ha of tea fields are home to three million ancient tea trees, some of which are more than 200 years old.
The natural tea acreage of Hoang Su Phi District plays an important role in keeping a well-proportioned mix of major crops in the district, a decree by the Ha Giang People's Committee stated in December last year.
Home to a climate suitable for tea growth, the tea trees have become one of the five major crops of the province. The tea and tea-drinking culture is closely associated with the local people, who prefer using fresh herbs for their brews.
Roasted or fermented teas are used for export to distant markets.
Grown on pure and fresh strips of land at over 1,000m above sea level on lime karst mountains of Vietnam's northeastern region, the tea buds and leaves are harvested so that they maintain their best quality.
Every year, total production reaches 12,800 tonnes of high quality tea buds, black and green teas. Tea communities in Lung Phin (Dong Van District), Phin Ho, Tung San and Thong Nguyen (Hoang Su Phi District), Tham Ve, Bo Duot, Thuong Son and Cao Bo (Vi Xuyen District) are among the best that grow in the natural habitat without any human interference such as fertiliser or pesticides.
As of now, shan tuyết tea has been exported not only to big cities in Vietnam such as Hanoi, Da Nang and HCM City, it has reached consumers in Europe, Asia and America in more than 20 countries.
Prior to this ceremony to recognise the ancient tea, communities in Ha Giang, the Intellectual Property Department earlier issued the geographical indications of shan tuyết tea to 44 communes in six districts and cities of Ha Giang Province. A native tree of the mountains, the shan tuyết tea is closely related to the local Dao and Mong people.
Ha Giang officials have set a target to increase the commercial tea plantation up to 17,000ha, of which 70 per cent reaches VietGap or organic quality requirements. Geographical indications shall be important for global consumers to learn about Ha Giang, its tea and the people.
VNS