The People's Committee of northern Hai Phong City has called for an investigation into the illegal dumping of 27 barrels of suspected chemical waste into the city's Hoa Binh Canal.
Factories in residential area blamed for water pollution
Vietnam urged to control ocean plastic waste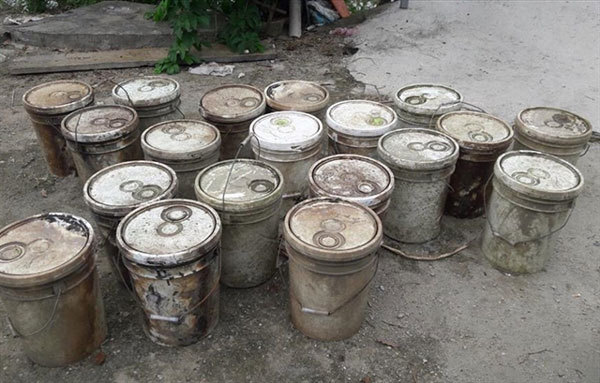 Barrels of suspected chemical waste are found in Hoa Binh Canal in northern Hai Phong City. — VNA/VNS Photo
The canal, located in Duong Kinh District's Anh Dung Ward, connects with the Da Do River and supplies water for residents.
The committee made the decision after 27 barrels, believed to contain chemical waste, were found in Hoa Binh Canal on July 29.
The barrels, which contained a light blue liquid, were recovered and stored by Da Do Irrigation Exploitation One Member Company Ltd.
Vu Quang Hung, head of the company's Duong Kinh Irrigation Exploitation Unit, told Vietnam News Agency that workers on duty noticed that the water had a blue colour.
The company mobilised more than 50 workers to search for the cause of the incident. As many as 27 barrels were found along the canal.
The committee has told authorised agencies to quickly take samples from the barrels for tests to identify the chemical waste inside and propose solutions on dealing with the chemicals.
The city's Department of Natural Resources and Environment has taken test samples.
The committee has also assigned the city police to work with Duong Kinh District's People's Committee to investigate and find the culprit who illegally dumped the chemicals. The results of the work must be reported to the committee.
Last month, black-coloured waste illegally dumped on a road in Vinh Bao District was discovered after a man was burnt when touching the waste. The case is still under investigation.
VNS