Ever since the Trashtag Challenge became viral in Vietnam, lots of groups and organizations have been organizing cleanups all over the country to promote a cleaner and safer image of Vietnam.
8-year-old Piper and her family
On a cool summer day in Hanoi, 8-year-old Piper is not picking up litter alone but with her whole family.
Piper's mother, Heather MccLeLland, said, "We've been in Hanoi for almost a year now and we lived here a few years ago, so it's just a nice way to be able to give back to the community. And I think that for the coming generation, it's more important to them than it is to us."
The MccLeLland family is joining the Hanoi cleanup event organized by Hanoi Animal Save, a chapter of an international movement called Animal Save, which aims to spread awareness about the treatment, killing and suffering of farmed animals by holding vigils at slaughterhouses. The cleanup is their first activity to attract Hanoians' attention.
Tim Lombard, coordinator of Hanoi Animal Save, said, "The international movement is very popular in the West. If it's just Western people coming and telling Vietnamese people what to eat and how to love their life, I don't think it will be appreciated and I don't think it will help our cause. So what we really want to do is get Vietnamese people on our side, so that's what the cleanup is about."
The cleanup venue today is the Banana island under the Long Bien bridge. After receiving gloves, bags, and clips from organizers, people start to pick up litter along the way to the island, which is a special place for Tim.
"I come running on this island almost everyday," he said, "I love it, it's really beautiful. But it hurts my heart to see the rubbish on the ground and all the litter. So if I can get people to pick that up, then I'm winning."
The cleanup attracts dozens of people, both Vietnamese and expats of all ages.
Nguyen Diem Quynh, a student from Vietnam Commercial University, asked her friends to join the event.
"I've joined many cleanups around Hanoi," she said, "I think these activities help me enrich my life experience as I get to learn more about the environment and make more acquaintances. I also want to inspire more young Vietnamese so that's why I've asked my friends to join me today."
Bruce Noble from Australia has also participated in several cleanups in Hanoi. In fact, he carries a bag with him all the time to pick up garbage wherever he goes.
"Wherever I live, I'm always picking up litter," he said, "And the locals see me doing that, I see less litter around because maybe they talk to their children and say 'Don't do it! He has to pick it up all the time.' You can't tell people what to do, you can only show them, lead by example. So I think it's important, if especially the Westerners and Vietnamese alike see the Vietnamese and Westerners working together, picking up the trash. which is not a flashy job, but still it's something important."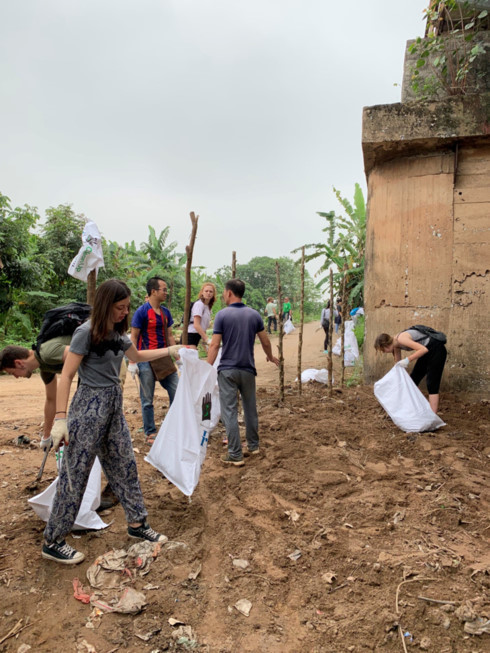 Volunteers pick up litter around the Banana island

After the cleanup, people gather around for lunch and a screening of a documentary about the current environmental challenges.
Hanoi Animal Save is collaborating with other non-governmental organizations such as Keep Hanoi Clean and Three Monkeys Vietnam to organize more cleanups. They will also hold workshops and present visuals to raise public awareness on protecting farmed animals and the environment.
Hanoi Animal Save has set up a fanpage on Facebook to welcome more volunteers to join their clean up efforts.
VOV5