Hanoi has set the target of reducing hard-decomposed plastic bags by 50% at all local traditional markets by the end of 2020, but little has been done to make this a reality.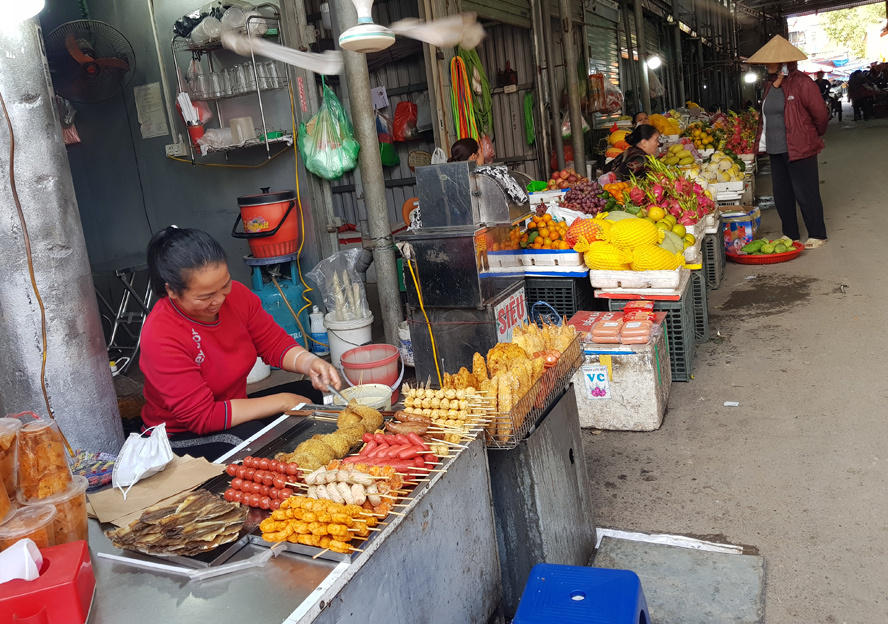 Hanoi has set the target of reducing hard-decomposed plastic bags by 50%
In Cau Giay Market on November 22, few people brought baskets or used environmentally-friendly alternatives for plastic bags to the market.    
Most of the vegetable and food traders still use plastic bags. Le Thi Dinh, a seafood seller said she uses around a kilo of plastic bags a day.
The same situation is seen at other markets such as Hom, Mo, Nghia Tan and Thai Ha in Hanoi's inner-city areas.
Meanwhile, all traders in the city's suburban markets said that they only use plastic bags.
Nguyen Huu Han, deputy head of Voi Market management board, the market is home to 700 traders who were encouraged to use self-decomposing bags to hold their products. But they mostly still use plastic bags.
None out of a total 370 traders in Phu Market in Quoc Oai District has used environmentally-friendly bags.
A kilo of plastic bags is just VND30-45,000 compared to VND70-90,000 of those that are less damaging to the environment.
Dong Xuan JS Company's General Director Hoang Cong Anh suggested that the government needs to increasing taxes on plastic bag production. A special roadmap to put an end to the production of single-use plastic products should be worked out.
Some other experts proposed stopping the production of hard to decompose plastic bags and the authorities need to offer incentives for environmentally-friendly alternatives.
Director of Hanoi Department of Industry and Trade Le Hong Thang said that the agency will have programmes to encourage traders and people to use self-decomposing products.
The department will recommend mechanisms for enterprises which produce environmentally-friendly alternatives.
Hanoimoi/Dtinews
Vietnam has been listed as one of the top five plastic polluters in the world, so eco-friendly technical solutions and the use of bio-degradable plastic products need urgent promotion.

More than 500,000 tons of by-products in the shrimp processing industry could become a source of bioplastics in the future.

Tonnes of plastic waste, particularly discarded plastic bags threaten our planet with environmental pollution, and by now almost everybody knows it.