Hanoi is piloting the cleanup of the To Lich river by spraying Redoxy3C inoculant at the section of Nguyen Dinh Hoan street and Khuong Dinh bridge.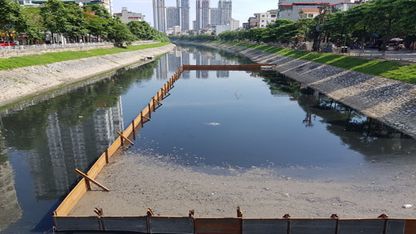 To Lich river's section near Khuong Dinh bridge is being treated with Redoxy-3C on June 4. Photo: Tat Dinh 
Near Khuong Dinh bridge, a river section of about 500 m2 is being fenced and treated with Redoxy3C, water is constantly bubbling and still black.
 "I feel that bad smell has decreased a bit, but I cannot know how long it will last," said Dinh Van Tuyen, who is living in Khuong Dinh, Thanh Xuan district.
Tran Luong Hien, who is in charge of the Center for Water Environment Testing under Hanoi Drainage Company, said that this is the first time Redoxy-3C has been used to clean To Lich river.
When Redoxy3C is "active", it will provide oxygen to water and ecosystems in the river.
Then, the whole system of aerobic microorganisms will operate and trigger the process of self-treatment in the water.
This activity is only experimental and requires additional research.
"In order to ensure objectivity, the test results will be analyzed by independent units. At first sight, after being sprayed with Redoxy3C, the river's water looks cleaner. In the test box, bad smell reduced obviously and some pollution indicators also decreased," Hien said.
Since 2016, Hanoi has used Redoxy3C to treat water in 87 lakes in the inner city.
According to Hanoi Drainage Company, the results show that the lakes see dissolved oxygen increasing from 2-3mg/l to 8-9mg/l on average.
Indicators of pH, microorganisms, solid waste suspended in the water reduced and met the standards. Hanoitimes
Anh Kiet

The project to clean up To Lich River in Hanoi using the Japanese bio-nanotechnology would be infeasible if wastewater is still directly discharged into the river, said a senior expert in water pollution treatment.  

Nguyen Thi Hoa, a resident living on Hoang Quoc Viet Street, is enjoying a rare reprieve from the rotten smell that has plagued the neighbourhood for decades.

Despite some improvements in To Lich River water quality, many experts are still expressing doubts.