As air pollution in the capital city of Hanoi has reached alarming levels over the past week, the Ministry of Health has issued scores of recommendations for residents to alleviate the effects of poor air quality on their health.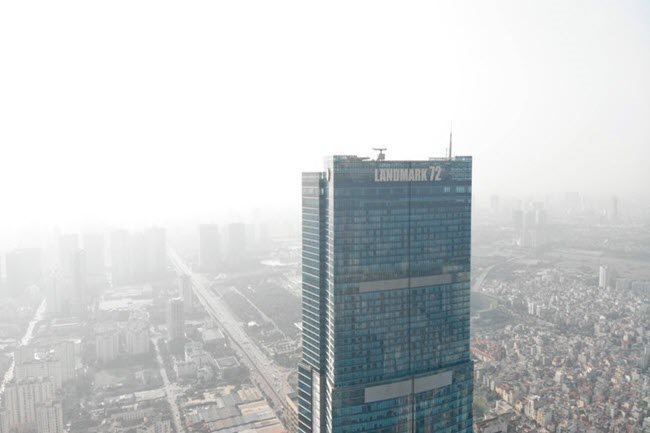 Many high buildings are shrouded in dense smog due to air pollution in Hanoi. Residents were advised to restrict their outdoor activities when the air quality gets worse 

The recommendations were jointly issued by the ministry's Health Environment Management Agency, the National Institute of Occupational and Environmental Health and the World Health Organization in Vietnam.
Specifically, local residents should stay updated on the air quality through the mainstream media run by the Ministry of Natural Resources and Environment and its subordinate agencies in provinces and cities.
Also, they were advised to restrict their outdoor activities when the air quality gets worse. If they must go outside, they should wear high-quality face masks. They were also told to use nasal wash and rinse their mouths with a sodium chloride solution twice a day, particularly after coming home, and to use saline eye drops before bed.
Smokers should reduce or give up their smoking habits, while non-smokers should stay away from cigarette smoke.
Apart from that, the health ministry advised the residents, especially those living near busy streets and polluted sites, to avoid opening doors and windows when air pollution is listed as serious, in addition to regularly cleaning their houses and the surrounding areas. They could switch from coal, wood or straw burning stoves to using induction stoves or gas hobs.
Residents should plant more trees inside and outside their homes to purify the air, the ministry added.
People with respiratory or heart diseases and the elderly should take these preventive measures seriously and consult a doctor if their symptoms worsen.
Data from the Vietnam Environmental Administration, under the Ministry of Natural Resources and Environment, showed that the air quality index in the capital city from December 10 to 12 reached alarming levels, at 201-300. The concentration of fine dust PM2.5 was typically high at night and in the early morning.
The Environmental Administration forecast that air quality will remain extremely poor in the coming days. People should adopt these preventive measures to protect their health.
Time for action to cope with air pollution
Air pollution in Hanoi has worsened, making the Vietnamese capital city one of the most dangerous places in the world to live in.
Last Friday, according to Nguoi Lao Dong newspaper, the monitoring system of the municipal Environmental Protection Agency showed that 10 of 11 sites were encountering serious air pollution, with the air quality index exceeding 200. The reading, categorized at the purple level, indicated that the air quality was very hazardous and residents may experience serious health problems.
The red-alarm air quality in Hanoi City on the day was recorded by various media, including Air Visual as a website that tracks air quality in cities around the world, and Pam Air, an environmental quality tracking app.
Faced with the problematic air quality, the Ministry of Health on Saturday issued a warning with a list of 14 recommendations for residents to lessen the impacts on their health. While such a warning is necessary, it is just a provisional coping measure.
Experts have pointed out the key reasons behind the worsening air quality in Hanoi, highlighting combustion and mechanical processes as the main sources of air pollution. For combustion processes, the key culprits emitting fine-particle pollutants include power plants, indoor heating, and car exhausts, while mechanical processes include construction and mining among others.
It is also said that the content of nitrogen dioxide and sulfur dioxide is high in the air in Hanoi, with the main sources being burning processes of sulfur-containing fuel in industry, transportation and power plants.
Serious air pollution in Hanoi and its vicinity has persisted for a long time although seasonal factors do play a part. Therefore, it is urgent for the Government and relevant ministries to devise a strategy to deal with the problem now and for the long term.
For the short term, it is proposed that authorities pinpoint the specific sources of air pollution, and take measures to deal with them on a one-by-one basis, be it an industrial factory, a power plant, or transport means. It t is proposed that standards be upgraded concerning emissions and filtering for all such specific sources and enforce strict compliance, just like the introduction of the Euro 2 emissions standards for all vehicles manufactured prior to end-2008 effective from January 1, 2020; and it is proposed that polluting facilities be shut down where remedial solutions do not work.
In the long term, there needs to be a strategy to stonewall projects in any industry that place the environment at risk, especially coal-fired power plants even if such projects have been included in master plans on industrial development. Such a step requires heightened awareness and political commitment, just like the way Long An Province authorities recently rejected a major coal-fired power plant project due to pollution concern though the Ministry of Industry and Trade has insisted on it because it has been included in the national power development plan.
Worsening air pollution in Hanoi – and HCMC and other major urban centers nationwide as well to some extent – will surely cost the economy dearly in terms of healthcare expenses, acquisition of household air filters, and national tourism among others. It is high time for action before the problem reaches the irrecoverable threshold or a point of no return.SGT

Air pollution continued to engulf Hanoi and some northern provinces on Friday morning, according to reports of independent air quality trackers.

Many people in Hanoi are buying air purifiers to cope with rising air pollution.