Hanoi residents have been pleasantly surprised with some good environmental news, as a polluted river has been cleaned up.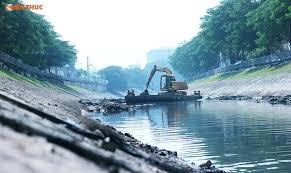 Hanoi Sewage and Drainage Company workers dredge mud on the To Lich River. Photo tienphong.vn
Over the last week, the Tô Lịch River's water colour has changed from black to green and a foul smell has disappeared.
Deputy General Director of Hà Nội Sewage and Drainage Company One Member Co,Ltd, Lê Vũ Quảng Sương, told Tiền Phong (Vanguard) newspaper that the change in water quality was thanks to company's efforts to dredge the riverbed.
According to Sương, the section from Hoàng Quốc Việt Street in Cầu Giấy District to Cót Bridge had been fully dredged, greatly improving the water flow.
Additionally, over the last week, heavy rains had occurred in the city so water in West Lake, which discharges into the river, had risen.
The company has expanded the discharge gates from West Lake to the Tô Lịch River, flushing away the polluted water to a treatment plant and creating a strong flow.
Dredging the riverbed is part of a city-wide plan the People's Committee has assigned to the company.
The river had become severely contaminated in recent years. Although the two sides of the Tô Lịch River have embankments, sewage systems together with waste poured and thrown directly into the river had caused riverbed sedimentation and slow water flow.
The company has been dredging 1m-thick mud from the riverbed to solve the issue.
Last year, it dredged more than 10,000cu.m of mud on the section from Hoàng Quốc Việt Street to Láng Road.
This year, the company hopes to dredge about 40,000cu.m of mud from the river.
Treatment plan
The city's People's Committee has lined up two projects to Tô Lịch River's polluted water.
The first proposal aims to use millions of cubic metres of water each year from the Hồng (Red) River to refresh the water supply in West Lake and the river.
The second involves installing a VNĐ16 trillion wastewater plant with designed capacity of 270,000cu.m per day in Yên Xá Village, Thịnh Liệt Commune, Thanh Trì District.
The second project has been assigned to the city's Department of Construction. A representative of the department said the wastewater treatment project was the best way to improve water quality.
He said the project was expected to help treat all wastewater from the Tô Lịch and Lừ rivers, and in seven districts across the city. VNS