Hanoi is planning to take control of illegal sand mining that is threatening the stability of agricultural production and the environment in and around the city.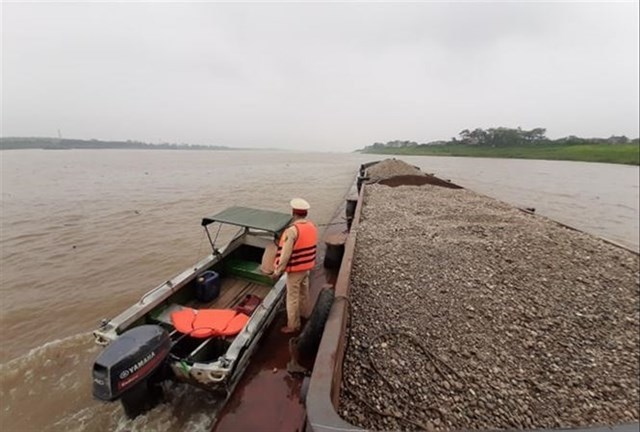 A police officer inspects a barge carrying sand on the Red River. (Photo: tienphong.vn)
The capital currently has four authorised sand mines, but illegal exploitation is rife in the outlying districts of Phuc Tho, Ba Vi and Dong Anh, Tien Phong (Vanguard) newspaper reported.
In early May, several sand dredges were seen brazenly operating on the Hong (Red) River in Phuc Tho district. The mining has been slowly eating away at agricultural land in Van Ha commune.
People in Dai Mach commune, Dong Anh district, are facing a similar situation. The issue has been persisting for more than a decade and has changed the Red River's flow. Hundreds of fruit trees have been swept away while landslides have destroyed residential land, posing a threat to locals.
Although the problem has been reported to authorities several times, nothing has been done.
The People's Committee of Dong Anh district said it was difficult to catch miners in the act. This passive response has allowed the crime to continue.
At the end of May, Hanoi Water Police uncovered two cases of illegal sand mining in Cam Thuong commune, Ba Vi district, and Van Ha commune, Phuc Tho district.
However, according to experts, they were just the tip of the iceberg, and simply patrolling the river was not enough to deter illegal sand miners.
A representative from the Department of Natural Resources and Environment said the city had not renewed mining licences for some time.
There had been ten mines with valid licences, but one had been suspended as the owner violated the law on natural resources and the other five had yet to start operations due to lack of road access.
Authorities had approved five other sand mines in Ba Vi and Bac Tu Liem districts and planned to organise auctions for the exploitation rights for these mines in the third quarter of 2019.-VNS