Hanoi is facing the waste disposal overloading as dumping sites are almost full, while waste treatment projects are behind schedule.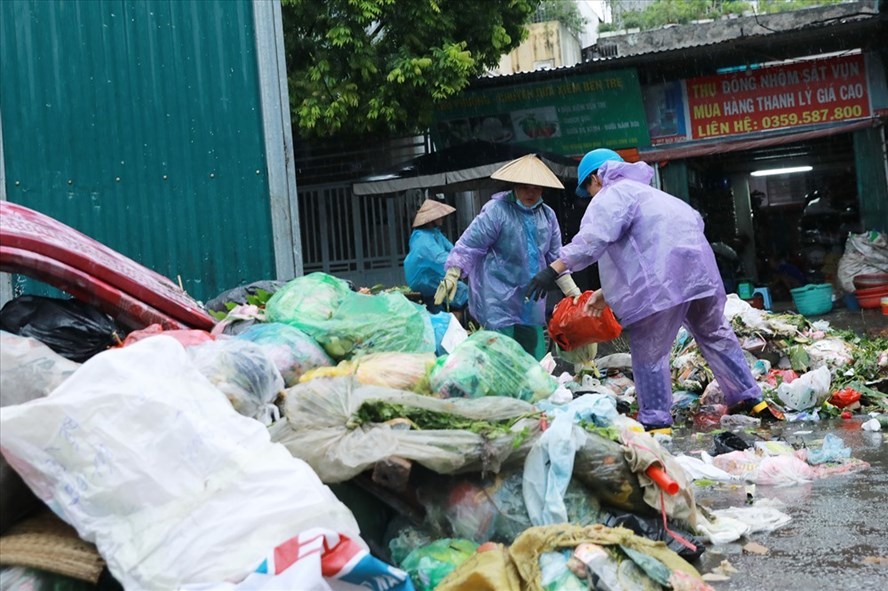 A rubbish pile on Bui Xuong Trach Street, Hanoi
At present, Hanoi's solid waste amount is estimated at around 6,500 tonnes per day on average, however, just 11% of this is treated by incineration.
Meanwhile, the remainder is transported to dumping grounds for burial, which has posed high risk of environmental pollution.
The figure has been forecasted to reach 8,500 tonnes per day in 2020. 
According to Nguyen Huu Tien, director of Hanoi Urban Environment Company, Nam Son and Xuan Son are Hanoi's largest dumping sites.
Every day, Nam Son receives 4,500-4,700 tonnes of rubbish and Xuan Son gets 1,200 tonnes. The two are almost full and would be unable to accept rubbish next year.
Earlier this year, dozens of people living near Nam Son landfill gathered to prevent trucks from entering the site as they have been threatened by the serious pollution from the site.
The blockade led to rubbish being piled up in the city.
Meanwhile, the implementation of waste treatment projects has been at a slow pace against the city's target for their operation in 2021.
For instance, Dong Ke waste treatment plant in Chuong My District with a daily capacity of 1,500 tonnes per day and a 1,200 tonne plant in Gia Lam District have remained in the stage of investor selection.
Two other projects located at Xuan Son landfill area in Ba Vi District are in the phase of investment procedure completion.
The remaining project which is situated at Nam Son landfill in Soc Son District seems to be the most promising than others, and is expected to be put into operation by the end of 2020 with a daily capacity of 4,000 tonnes of rubbish.
Dang Hung Vo, former deputy minister of natural resources and environment suggested that Hanoi needs to use hi-tech waste treatment technology, which should have received attention far earlier, instead of burying rubbish.
Lao Dong/Dtinews