All health facilities in Hanoi are expected to have standard wastewater treatment systems by 2020 and five year later, all hazardous medical waste from the facilities should be collected and treated properly.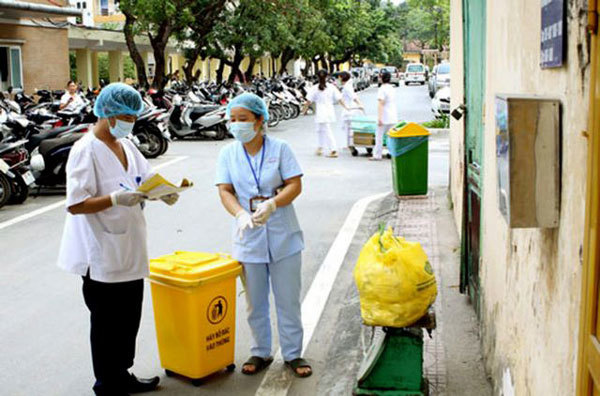 Workers gather and classify medical waste at Hanoi's E Hospital. — VNA/VNS Duong Ngoc
These are two main targets of a medical waste treatment plan Ha Noi People's Committee recently approved.
According to the city's Health Department, there are nearly 3,680 health facilities in the city. Last year, more than 27.5 tonnes of medical waste was discharged daily in the city, including 8.4 tonnes of hazardous waste.
It is expected that in 2020, about 90 tonnes of medical waste will be produced daily and the number will hit 150 tonnes in 2030.
Vice Director of the city's Health Department Hoang Duc Hanh said together with the increase in number and size of health facilities, medical waste volume was also increasing sharply.
"If medical waste is not treated properly, it will leave negative impacts on soil, water and air environment as well as human health," he said.
Health facilities in the city have been making efforts to manage medical waste and protect the environment. However, waste burning kilns and gas emission control systems in some hospitals operate ineffectively while wastewater treatment systems have degraded, Hanh said.
From 2010 to 2013, the city spent VND24 billion (US$1.03 million) to build 16 waste burning kilns in hospitals across the city but most of the kilns are now broken.
In Soc Son District General Hospital and Thuong Tin District General Hospital, people add fuel into the kilns to produce a stronger blaze to burn the waste.
The burning also produces harmful gases, odor smell and is costly, Hanh said.
Now, waste burning kilns are available in only two hospitals – My Duc Mental Health Hospital and My Duc District General Hospital, Hanh said, adding that by 2020, the kilns would be closed.
A report by the city's Natural Resources and Environment Department last year showed that treated wastewater in hospitals like Saint Paul, Ha Dong General Hospital or Ha Noi Maternity Hospital still failed to meet environmental standards.
This was due to insufficient maintenance of the systems or in other cases, because of funding shortage.
Nguyen Dinh Dinh, director of Son Tay General Hospital, said its wastewater treatment system was built in 2007 and was now degraded.
He said the hospital had failed to arrange funding to improve the medical waste treatment system.
Director of Ha Noi Health Department Nguyen Khac Hien told Hà Nội Mới (New Hà Nội) newspaper that hospitals and other health facilities concentrated on improving staff's expertise and service quality while ignoring environmental protection, particularly medical waste treatment.
Hien also said that medical workers did not pay sufficient attention when sorting, collecting and transporting medical waste.
Hien said that this year, the city Health Department would examine waste treatment systems at public health facilities.
The department would report the city People' Committee and ask the committee to allocate funding to improve degraded medical waste treatment systems.
To deal with hazardous medical waste, Hien said health facilities near each other should select a shared waste storage area where their waste would be transferred to, stored and await transportation to the city's concentrated waste treatment areas.
Health facilities in suburban areas that generate little waste should connect with each other to form groups and share a major waste treatment system. The move will help reduce treatment costs and increase efficiency.
For health facilities unable to transfer their waste to the city's concentrated waste treatment areas or the groups' shared treatment system, they could build a waste treatment system within their boundary, Hanh said.
People can help improve the medical waste treatment by putting garbage in the right places and classifying garbage at health facilities, the health official said.
VNS
RELATED NEWS
New medical waste water treatment technology brings higher efficiency
Hanoi to have 25 new parks