The air quality in the last six days of November was poor, with the index exceeding the permitted levels.
According to the Hanoi Environment Protection Sub-department, at 10 am on the last day of November, the air quality index (AQI) at the monitoring station on Pham Van Dong street was 172. The AQI was 173 at the French Embassy on Ba Trieu street, 182 at the US Embassy on Lang Ha Road and 177 on Hang Dau street.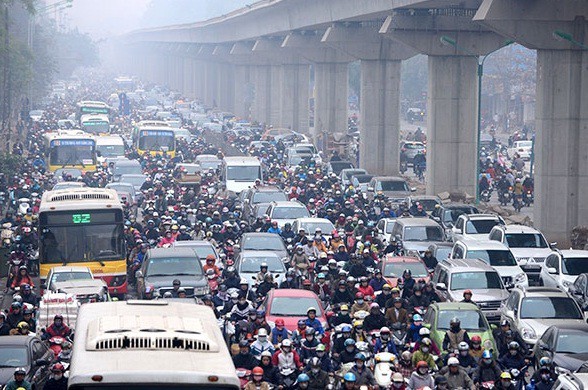 Also on November 30, Airvisual announced the AQI was 216, or very poor, in the West Lake area and 196 in Sai Dong area of Long Bien district.

The air quality is considered good if AQI is 0-50, average if AQI is 51-100, poor in 101-150, bad in 151-200, very bad in 201-300 and dangerous in 301-500.

Hanoi has suffered from four spells of bad air pollution this year.

The first spell lasted 16 days, from January 11 to January 26. The second lasted 17 days, from March 11 to March 27. The third lasted longer, 27 days, from September 12 to October 3 and the fourth began on November 1 to now. During the spells of air pollution, the AQI was above 100, which means harm to human's health.

On the first day of December, air pollution could be seen by people who traveled on inner city's routes.

The air quality in the last six days of November was poor, with the index exceeding the permitted levels.
In Cau Giay populous district, the sky was dark at 8-10 am. And before that, on the night of November 30, on Xa Dan, Nguyen Trai and Belt Road No 3, the street lights were a blurry red. Fine dust in the air may not be visible during the day, but at night it is visible through change of the color of the streetlight system.

Nghiem Trung Dung, former director of the Science and Environment Technology Institute, an arm of the Hanoi University of Science and Technology, attributed this to the specific weather characteristics which were not favorable for diffusion.

Other scientists said the air was polluted in November because the northeast monsoon brought dust from other areas to Hanoi. They also attributed it to the industrial waste in the construction industry and emissions from motor vehicles.

In addition, they said, there was no rain for many days in the north, the amhumidity was low, it was sunny in the day, and there was a big difference in temperature between day and night.
Chi Mai

The air quality in Hanoi is becoming worse than usual. In suburban districts, people are burning straw and scraps of fabric though they have been warned of the risks.

The Ministry of Natural Resources and Environment (MoNRE) is planning to design a system to monitor air quality across all provinces and cities.