It may be unusual for hilly areas and islands surrounded by ocean to grapple with flooding, but historic floods last week in Phu Quoc Island and Da Lat, sent local people and tourists into a nightmare scenario.
Thousands of houses in Phu Quoc Island submerged
Phu Quoc streets ruined after flood
Collapse of trash mountain buries vast farming area in Da Lat
Greenhouses damage Da Lat's scenery and climate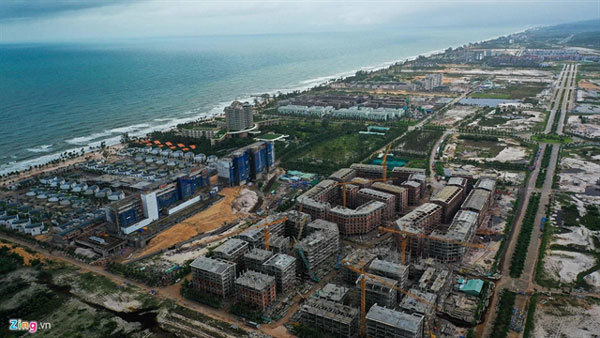 Real estate and resort projects along the beach on Phu Quoc Island that have blocked water drainage paths. Photos news.zing.vn
The natural and human factors that caused the flooding will require deeper analysis to understand how best to balance growth and protecting the environment, but we can draw some initial conclusions.
Architect Ngo Viet Nam Son blamed the floods on unsustainable planning of tourist areas that fail to leave space for water to drain.
"Not only Da Lat and Phu Quoc, but many other urban areas in Vietnam also ignore this important factor," he said.
"The two tourism spots were submerged as a consequence of 'greedy' urban development," he continued. "Concrete surfaces have sprung up for commercial purposes. Many have even filled up canals, ditches, lakes and rivers for business purposes and ignored spaces for water drainage."
The island district of Phu Quoc in southern Kien Giang Province, dubbed the pearl island, was hit by torrential rains which resulted in the heaviest floods in 100 years.
In the first 10 days of August alone the island experienced more than 1,100mm of rain, estimated to be equivalent to half the rainfall it usually sees in an entire year.
Water levels reportedly rose up to two metres. All activities from fishing to tourism on the 600sq.km island were paralysed. More than 8,400 houses were inundated with more than 2,000 people being relocated to safe places.
Phu Quoc Airport flooded and was temporarily closed, preventing dozens of flights from landing.
The total losses from the two consecutive floods on the island last week were estimated to reach more than VNĐ107 billion (US$4.6 million).
The Central Highlands province of Lam Dong last week shared a similar fate with Phu Quoc, even though rainfall was reported to be at an average level.
Although not exceptionally large, the prolonged rainstorms caused flooding of up to 1.5m in many areas including the tranquil tourist site of Da Lat. The flooding led to dramatic scenes, with more than 40 people in Lat Commune, Lạc Duong District having to hang onto a rope to escape after being stranded.
Cam Ly Garbage Dump in Da Lat was one of the most seriously flooded areas. Until the rain finally stopped on Tuesday, the accumulated rainwater swept thousands of tonnes of rubbish down the hill, burying a local neighbourhood in up to five metres of waste in some areas.
Nature and humans
Phu Quoc authorities blamed the floods on streams and water drainage facilities that were overloaded by the rainwater that was accumulated over many days while the sewers were blocked by domestic waste.
Mai Van Huynh, secretary of Phu Quoc District's Party Committee and chairman of the district's People Committee, pointed out another factor that worsened the historic floods – densely-populated areas of new construction along the coast that stopped water from draining.
The island has been developing rapidly thanks to an influx of investment and is at the core of the Government's effort to develop the nation into an international hub for tourism and finance.
The plan to turn the country's biggest island into a special economic zone sent land prices skyrocketing. According to experts, development projects have spoiled the landscape, blocked streams and rivers and eliminated forests which acted as natural water storage.
According to Phu Quoc's Economic Zone Management Board, as of July this year, there have been nearly 300 projects with investments totalling VND370 trillion ($16.1 billion) on the island. Most of them are real estate and resort projects.
The longest and most stunning beaches like Khem, Dai, Truong and Ganh Dau no longer have their natural beauty. Areas around these beaches have been divided into smaller zones covering just dozens or hundreds of hectares to be sold to investors.
Le Hoang Chau, president of HCM City's Real Estate Association, said the Phu Quoc authorities had allowed rapid construction without considering whether existing infrastructure could keep up with the changes.
"As a result there are a number of places where buildings are under construction even though there are no roads, water supply or drainage system," Chau said.
Greenhouses
Environmental expert Lam Ngoc Tuan from Da Lat University told Tuổi Trẻ (Youth) newspaper that flooding in Da Lat and neighbouring areas occurred with more frequency over the past seven years mostly because of the proliferation of greenhouses at hi-tech agricultural projects.
"The areas which witnessed the most serious floods in Lam Dong were where trees were chopped down to make room for greenhouses," he said. "Destroying forests to grow vegetables is not as devastating as cutting trees to build greenhouses."
"Land where greenhouses are located can no longer absorb water. The rain hits plastic panels and pours down into streams, which makes water levels suddenly rise and creates floods with strong currents," Tuan explained.
"If the rain is heavier, its consequences will be uncontrollable."
According to the latest statistics from Lam Dong's Department of Agriculture and Rural Development, greenhouses make up 10,000ha out of 18,000 ha of vegetable and flower growing areas in the province.
Greenhouses and net houses will continue to dominate the Central Highlands city as local authorities have targeted covering 75 per cent of vegetable growing areas and 90 per cent of flower areas with hi-tech projects by next year.
Deforestation is expected to continue as demand grows for space to build greenhouses. The province has lost 90,000ha of forests since 2010. Forest coverage now stands at only 45 per cent.
Lai The Hung, head of the provincial Crop and Plant Protection Sub-department, said the greenhouse builders did not consider whether the location was suitable. When greenhouses are built in the wrong location, they limit the amount of water the land can absorb.
In 2018, the local agriculture sector compiled a set of standards for greenhouse construction which included water drainage systems to deal with torrential rain. However, the regulation has not yet been implemented.
Solutions
Heavy floods over the past week are likely to influence Phu Quoc authorities as they map out and approve future development plans.
The district's chairman Mai Van Huynh said: "We will invite experts to assess rain and wind capacity to map out climate change scenarios, adjust our plans and upgrade the water drainage system."
Associate Professor Le Anh Tuan, former deputy head of the Climate Change Research Institute under Can Tho University, said Phu Quoc should place less of a burden on the drainage system and save spaces to absorb water.
"These solutions need to be taken into account by planners right now unless they want to see the island flooded more seriously in the future," Tuan said.
Dr Vu Ngoc Long, former head of the Southern Institute of Ecology, said Lam Dong and other Central Highlands provinces need to review a number of factors which serve as an important foundation to prevent floods, including whether new buildings change the landscape or reduce water absorbance capacity, urban construction density and the location of agricultural projects.

VNS