A plan that called for private garbage collectors to modernise their vehicles has been delayed by HCM City authorities.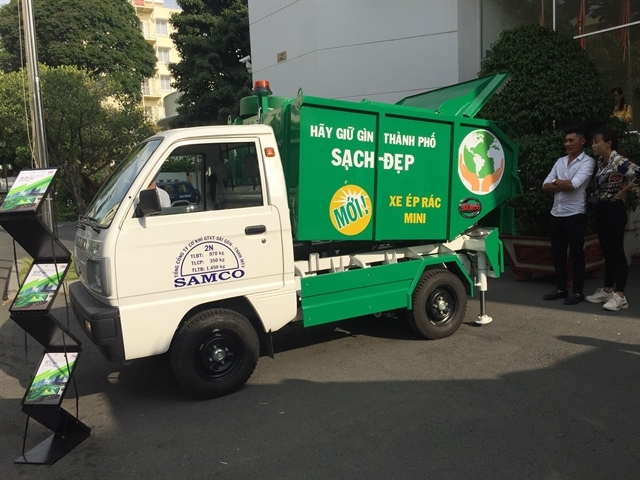 Private garbage collectors' vehicles must meet environmental safety and traffic safety standards by 2025 under a plan by the HCM City government.
In October last year, the city authority directed private collectors to modernise their vehicles, which were viewed as unsanitary, before November this year.
However, the plan has been delayed because many collectors have not followed the request.
Last year, the city's Department of Natural Resources and Environment told private collectors to use 600-litre plastic or composite rubbish bins as well as a closed cover and leachate collection with a 350-kilo to 5-tonne capacity.
The city encouraged collectors to take out unsecured loans from the city's Capital Aid Fund for Cooperative Members (CCM).
The loans could be up to VNĐ40 million (US$1,700) for the first time and up to VNĐ60 million ($2,600) for the second time, at an interest rate of 0.7 per cent per month for two years.
Collectors could borrow up to 70 per cent of a vehicle's value at an interest rate of 4.27 per cent per year for seven years from the city's Environment Protection Fund.
Lê Trung Tuấn Anh, head of the department's Solid Waste Management Division, said the city's People's Committee had agreed with the proposal to extend the date to 2025 and to make specific plans during this time.
From 2020 to 2021, urban districts will be responsible for encouraging all private collectors to change their vehicles. Districts will have to identify the number of vehicles to be converted in the area before implementing the plan.
From 2022 to 2025, private garbage collectors in suburban districts should change all their vehicles to meet the city's standard.
The city's People's Committee has assigned the Department of Finance and Department of Planning and Investment to provide authorised capital from the Environmental Protection Fund to ensure that there is enough money to change the vehicles.
The department of Natural Resources and Environment will continue to work with SAMCO on solutions to upgrade garbage collection vehicles.
In addition, the city department will continue to shift the formal operational mode of private waste collectors to cooperative units.
Nguyễn Toàn Thắng, director of the department, said that more than 1,000 to 2,500 private collectors had not changed to official cooperative units.
After completing the plan to merge private units with cooperatives, waste collection fees would be collected by districts, not by individuals. This aimed to protect private collectors' incomes and ensure that bidding for rubbish collection and transportation services would be done properly.
In addition, the city's Department of Transport had directed district authorities to review domestic waste-gathering sites to arrange collection times and to avoid collection during peak traffic hours.
The department was also considering providing warning signs and reflective clothing to sanitation workers and vehicles to ensure safety, he said.
The city currently has two main garbage collection systems, including the city's Urban Environment Co Ltd and private garbage collectors.
The city generates more than 9,000 domestic solid waste per day, and the volume has risen by 5-6 per cent per annum in recent years.
More than 60 per cent of rubbish is collected by private garbage collectors who mostly work in narrow alleys. The remaining amount of garbage is collected by public service companies.
The private collectors use tricycles, motorised pedicabs or homemade vehicles that do not meet environmental safety and traffic safety standards. — VNS

HCM City is facing difficulties collecting over 9,000 tonnes of domestic rubbish every day.  

HCM City authorities are seeking solutions to deal with the buried rubbish polluting the area.